Thanksgiving Turkey and Cranberry Potstickers Dumplings

26/11/2020 Pair up this Heart-warming Recipe with the Perfect Wine this Thanksgiving
I first made these dumplings after meeting my American girlfriend, Taylor. I actually made them in Kauai, Hawai'i of all place when first meeting my Taylor's mother. We decided to combine our two favourite things - Thanksgiving and Asian dumplings. This is truly a heartwarming, bite-size, flavour bomb. The addition of Chinese Shaoxing rice wine gives each little delicious morsel a lift of floral aroma while the dried cranberries welcome a sweet burst of joy, reminding you to fall family festivities. Together we savoured a bottle of sumptuous Pinot Noir from RAEN located in Sonoma Valley's Fort Ross Seaview AVA. This exclusive maritime influenced appellation is in my opinion, the crown jewel of Sonoma Valley producing consistently detailed and wonderfully seductive wines. A charming food and wine pairing, together playing a symphony of fragrance, spice, pink musk, bright red fruit and floral aromatics.
Filling
¾ lbs. (340g) ground turkey
½ cup (50g or 1.8oz.) dried cranberries
4-5 shiitake mushrooms, finely diced
1-2 cup napa cabbage, very finely sliced
2 tsp cold water
1 tbsp corn flour
1 tbsp Shaoxing rice wine
1 tsp dark soy sauce
1 tsp light soy sauce
2 stalks of scallions, finely sliced
1 clove garlic
½ oz. sesame oil
½ oz. ginger, finely grated
To assemble and cook
1 packet wonton wrappers (50 sheets)
1 tbsp. vegetable oil
¼ cup water
1 tsp. sesame oil
Author: Timothy Neumann
- Sommeliers Choice Awards Multicultural Food and Wine Ambassador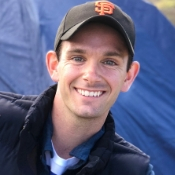 Tim is an Australian food and wine writer and accredited nutritionist. When cooking, Tim loves using healthy, local ingredients accented with bold multicultural flavors. Discover Tim's endless recipes and multicultural food ideas on Instagram @tc_neumann or through Beverage Trade Network articles.
Get Feedback From On-Premise Buyers, Wine Directors, and Master Sommeliers. Enter Your Wines Before January 31, 2024, To Save.