Spanish Duck Croquettes 

20/11/2020 On this page, you will find the recipe for Spanish Duck Croquettes .
Throw aside the shackles of guilt, it's shelter-in season and it's your excuse to eat your way through all of your wildest food temptations. Duck leg seared and confined to pullable unctuousness. Adorned with wickedly rich, garlic-spiked duck fat béchamel.

Tossed in a light panko crust and destined for the fryer. Melting perfection served with smoky romesco sauce providing a true comfort. The pleasure of each bite is unparalleled. Social distancing never tasted so good. Fancy a spot of vino? You don't need to face the office tomorrow, so the time is now! May the only difficulty you encounter today be an agonising decision between pairing this rustic Spanish duck croquette with Spanish Cava or a more brooding DO Priorat of sorts (Grenache and Carignan). East Houston Street Wine & Liquor in New York welcomes its customers to order online from their healthy assortment of worldly wines including Spanish selections available for Curbside Checkout and FREE door-to-door Delivery Manhattan-wide. (LINK: https://ehliquors.com)
About the Author: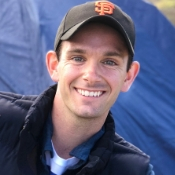 Timothy Neumann is an Australian Nutritionist, Chef, Culinary Consultant and Freelance Writer based in Napa, California. As a regular contributor of recipes and wine pairings for Sommeliers Choice Awards, Tim will be your resident food guru and bring you awesome recipes. Tim's approach to food is healthy, balanced and seasonal cooking to fuel a happy and productive mind! If you're visiting wine country, get a taste of Australia meets Californian cuisine.
Get Feedback From On-Premise Buyers, Wine Directors, and Master Sommeliers. Enter Your Wines Before January 31, 2024, To Save.