Gluten Free Thanksgiving and Holiday Couscous Stuffing

26/11/2020 Have this gluten-free recipe this Thanksgiving along with a festive bottle of sparkling red wine.
My rendition of holiday roast stuffing oozes festive cheer with flavor and nutrition to boot.
Every friend, family member and dining guest I've prepared this for always ask what's hiding in this heavenly, flavor packed stuffing. My signature stuffing blends a harmonious combination of fluffy gluten free couscous, fresh aromatic herbs, crunchy roasted nuts and sweet assorted dried fruit. Dried fruit is so plentiful in the Golden State. Ripened, dried and raisinated by California's glorious Indian summers. Keep an eye out for organic dried fruit, which isn't artificially sulfur dried. I made this stuffing for the first time 3 years ago filling a succulent rolled pork roast (pictured) as is tradition for an Australian summer Christmas lunch. I have since refined it adding more and more attitude and character to the recipe. My recipe is open to your changes to make it your own. You may consider raisins, I am so excited to share it with Sommelier Choice readers as we roll into the holiday season. Do as Australians do, and uncorked a cheery, festive bottle of sparkling red wine.
Ingredients:
2 cups dried couscous
2 cups chicken or vegetable broth (or 1 bouillon cube made up to packet directions)
½ cup mixed fresh herbs (e.g. basil, parsley, thyme, dill, chives) (the more variety the better)
¼ cup dried apricots
¼ cup dried cranberries
¼ cup dried mission figs
¼ cup macadamia nuts
¼ cup almonds
1 tbsp shallots, finely diced
½ tsp fennel seeds
½ tsp kosher salt (to taste, be wary that broth may already contain high salt)
¼ tsp ground black pepper
zest one lemon or orange
Author: Timothy Neumann
- Sommeliers Choice Awards Multicultural Food and Wine Ambassador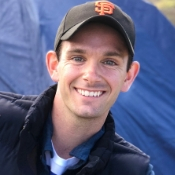 Tim is an Australian food and wine writer and accredited nutritionist. When cooking, Tim loves using healthy, local ingredients accented with bold multicultural flavors. Discover Tim's endless recipes and multicultural food ideas on Instagram @tc_neumann or through Beverage Trade Network articles.
Get Feedback From On-Premise Buyers, Wine Directors, and Master Sommeliers. Enter Your Wines Before January 31, 2024, To Save.