Four Regions & Four Flavors: Wine of the World Paired With Thai Cuisine

05/07/2023 Apart from Jasmin rice, coconut milk and fresh herbs, know some of the additional ingredients for an authentic Thai curry paste and wine to suit every palate.
At the heart of Thai cuisine is the harmonious balance of four flavours - Sweet, Salty, Sour and Spicy (or Bitter). These elements feature more prominently depending on which region of Thailand you visit and let me assure you it's more diverse than simply hot curries and chilli-rich stir-fries. Thailand is geographically spread across four different provinces - Northern (famous for Lan Na cuisine), North Eastern (Issan), Central and finally Southern Thailand. The cuisine, cooking techniques, ingredients and flavours distinct to each region are all influenced by bordering countries following centuries of cross-colonization, migration and trade.
The most fundamental staples in every Thai pantry include Jasmine Rice, Coconut Milk, Fresh Herbs and Thai Chillies, Fish Sauce, Tamarind Paste, Shrimp Paste and Palm Sugar. I've suggested some additional ingredients below for a seriously authentic Thai curry paste and wines to suit every palate.
Northern Thailand (Lan An)
Landlocked Northern Thailand derives its cuisine ("Lan An" cuisine) from centuries of migration from neighbouring countries including Myanmar (Burma), Laos, China, Sri Lanka and India. Silk Road brought the culinary world to life with spicy, pungent and exotic spices that still epitomise the Lan An cuisine today. Rich curries of turmeric, cumin and cardamom provide aromatic morsels of meat blended with earthy tones of grilled vegetables and chillies, lifted with bright accents lemongrass and Thai basil. Unique to Lan An cuisine is their famous fermented meats and cured sausages for example "Sai Oua" (fermented pork sausage) a local comfort food.
Southern Thailand
The food culture in Phuket and Southern Thailand is distinctively blended with Western colonial, Hokkien Chinese and Muslim influence. A fish and seafood-centric cuisine exist here due to the region's proximity to the Andaman Sea and the Gulf of Thailand. Comfort food in Southern Thailand like Massaman Curry are humming with dry roasted holiday spice and charred red chilli, rich lashings of coconut milk and a strong umami taste due to the region's love of fermented fish, shrimp, pork and yellow bean pastes. Fresh vegetables such as spinach, mushrooms, bamboo shoots, papaya and lotus root create colour and nutrition while added potatoes, pineapple, peanuts and raisins add bursts of joy.
Central Thailand
Central Thailand, home to the capital Bangkok is often referred to as modern Thailand and is a destination for tourists hoping to get a taste of Thai culture. Street vendors, floating markets and eating halls draw influence from all over the country, of course often with adjusted levels of spiciness. Popular dishes include Pad See Ew and Pad Thai (sweet, oily rice noodles with Wagyu beef or shrimp and fried egg), Tom Yum Goong Soup (hot and sour shrimp soup), Green and Red Curry with Tropical Fruit or Tom Kha Gai (a spicy and sour chicken, ginger and coconut soup). Central Thai food fits well within the comfort zone of most Westerners featuring sweeter takes on traditional dishes (adding additional palm sugar), less spicy and more fried foods than anywhere across Thailand.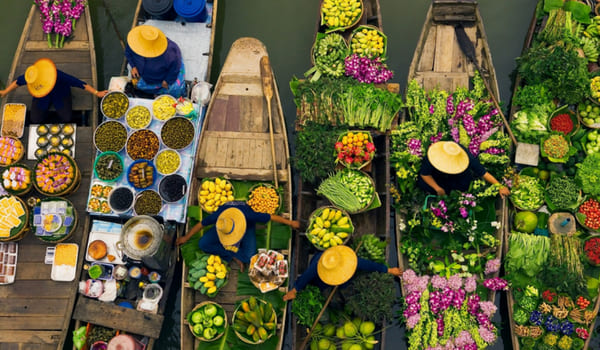 Northeastern Thailand (Issan)
Humble countryside and forest-dwelling communities within Issan province rely heavily on hunting. Meat is sustenance, for example, "Sok Lek" a Thai male-bonding dish of spicy raw beef swimming in animal blood gravy. Variations of the region's famous "Jungle Curry" feature a wide range of game, wild boar, dear, small birds and frogs, alive with lemongrass, galangal, garlic, chillies, kaffir lime leaves, holy basil and green onion. Seafood delicacies also exist including grilled catfish and the popular snakehead fish finished with a lime juice, mint, cilantro, lemongrass, kaffir lime leaf and red chilli dressing.
Over the past two to three decades, Thai food has exploded in popularity all across the Western world and connoisseurs are hungry (and thirsty) to pair the cuisine with their favourite wines. So where are some good places to start? Despite some regional variation, Thai food is undeniably hot, sometimes numbingly spicy, and dishes brimming with this much exotic spice, demand a cool, refreshing style of wine.
White Wine:
Generally, avoid overly aged and oaky whites and those with high malolactic fermentation. Aromatic ingredients are used in Thai food for a reason, so let them shine! Choose aromatic, fruity white wines with a medium to high acidity and possibly lower alcohol. This might include:
Riesling - an off-dry German, Alsatian or Australian (Clare Valley) style will allow for a beautiful pairing given its ripe, dried fruit character and cooling sweetness.
Vouvray - Chenin Blanc is versatile, whether a fruity style with a hint of sweetness or one with crisp, acid drive, either is an ideal pairing.

Grenache Blanc is a great choice due to its vibrant green apple acidity with the herbal and floral aroma, perfect for an array of fragrant Thai dishes.
Pinot Gris, Gewürztraminer or Grüner Ventliner are all excellent pairings due to their playful expression of tropical, citrus and stone fruit, particularly if enjoying red and yellow curries with lychee or pineapple from central and southern Thai cuisine.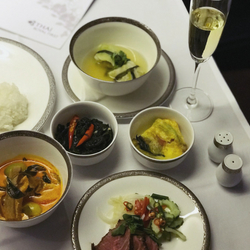 Bubbles:
Sparkling shouldn't be overlooked when pairing vino with fiery Thai provisions.
Champagne "Doux" courtesy of some of the major French houses or Italian Asti Spumante, Moscato is sparkling wines with 40 - 75g sugar per litre, creating a delightful celebratory pairing.
Red Wine:
Stay away from anything with too much tannin, unless you're a serious seeker of spice. Tannins heavily accentuate any level of spice on the tongue. With that said, spice can always be adjusted, if you're in the mood for red, look to styles of Thai like those of Northeast Thailand where meat features predominately allowing for a better-suited food and wine combination.
Oregon or Otago (New Zealand) Pinot Noir or Austrian Zweigelt are two medium bodied, aromatic red varietals with soft tannin and enough acid to still complement the aromatic and spicy nature of Thai food.
Thai is one of the most unpretentious cuisines on earth and so too should be any accompaniments. Let your taste buds decide what wines pair well, and don't let anyone tell you what's right and wrong.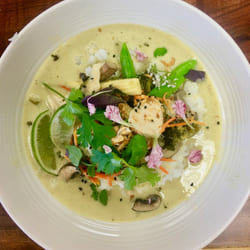 There is nothing more quintessentially Thai than Green Curry. Take your next spice night to the next level with the following green curry paste. Ground and pound all ingredients down in a mortar and pestle or strong food processor (in order of appearance - most tough and fibrous ingredients first). Use some lime juice to help soften if necessary. Keep up to 3 months in an airtight container in the fridge.
½ Stalk Lemongrass
2 Tbsp. Galangal (or Ginger)
2 Baby Shallots
6-8 Fresh Garlic Cloves
2 Long Green Chilies
2 Tbsp. (~4) Hot Thai Green Chilies
2 Kaffir Limes (Using the Skin)
1 Cilantro Root
1 Tbsp. Cumin Seed
½ Tbsp. Coriander Powder
1 ½ Tbsp. Sea Salt
Sommeliers Choice Awards gathers the top restaurant wine buyers, Master Sommeliers, and wine directors who have a direct influence on the US on-premise market. If you're looking to get in front of the top sommeliers and on-premise wine buyers of the USA, now is the best time to enter your wines. Wine brands from around the world now have an opportunity to grow their business and gain the attention of wine buyers, wine directors and influencers within the U.S. on-premise industry.
Time to submit your wines and get the super early bird savings. Learn more about the SCA Entry Process & Fee here.
Get Feedback From On-Premise Buyers, Wine Directors, and Master Sommeliers. Enter Your Wines Before January 31, 2024, To Save.