Corn Risotto

20/11/2020 The crunching nostalgic jubilance of sweetcorn fresh off the cob makes a great match for the silken ooze of risotto bianco.
There is something so endearing about the Mid-Western rusticity of this dish. The crunching nostalgic jubilance of sweetcorn fresh off the cob makes a great match for the silken ooze of risotto bianco. The combination of corn and risotto might sound light but is remarkably flavorful. Sweetness of sorts together with the earthiness of Arborio simply works. Step back for a moment and you can easily appreciate that the candy sweetness of spring-green peas, aged balsamic, slow roasted tomatoes, butternut squash or vanilla sunchoke puree all complement risotto perfectly.

Corn's summer ripeness provides all that and more. You may start the risotto with fresh kernels and rice gradually adding your vegetable broth or fold sautéed corn in just at the end as I do, paying careful attention to the slow caramelization of the corn in a separate frying pan, no bacon, please. If you really want to impress, use your freshly shaved cobs as a base for a corn broth, queue the 'ahh' moment! Add a handful of grated parmesan for enhanced depth and lemon for a zing of freshness. The unpretentious charm melds delightfully well with an array of beverage options.
Sommeliers are always finding a pairing other than Chardonnay but the inherent nutty, vanillin and cedar undertones of this classic varietal hits just the spot, especially if you too added that knob of butter than I tried to forget about. Modern-Australian winemaking is seeing the entry of exquisite Burgundy-inspired Chardonnay. One such producer receiving high-level acclaim is Whicher Ridge. Aussie epicureans can order a mixed "Foodies Pack" showcasing some of the Margaret River's finest Shiraz, Sauvignon Blanc, Rosé and Chardonnay.
"This special pack contains wines that we know are our most versatile food pairing wines. Perfect for those using this time to experiment with new and exciting recipes". Whether Australian wine or not, look to local regions near you for Chardonnay that fits your budget for a splendid pairing with creamy corn risotto.
About the Author: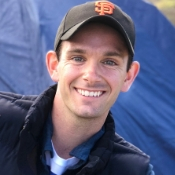 Timothy Neumann is an Australian Nutritionist, Chef, Culinary Consultant and Freelance Writer based in Napa, California. As a regular contributor of recipes and wine pairings for Sommeliers Choice Awards, Tim will be your resident food guru and bring you awesome recipes. Tim's approach to food is healthy, balanced and seasonal cooking to fuel a happy and productive mind! If you're visiting wine country, get a taste of Australia meets Californian cuisine.
Get Feedback From On-Premise Buyers, Wine Directors, and Master Sommeliers. Enter Your Wines Before January 31, 2024, To Save.