Legendary Wine Making Family

27/10/2021 The Taste of Siena is Sangiovese: History, Traditions, & Territory Bindi-Sergardi Wines Celebrate the Soul of Siena
Tuscany is known for its picturesque rolling hills studded with tidy rows of cypress and poplar trees wending their way along ancient, sun-soaked roads. Natural stone and plaster structures wound with wrought iron and topped with terracotta shingles cluster together creating villages dating back more than a millennium. Speckled across the countryside are grand estates and Renaissance palaces anchoring vast vineyards and forests.
Some of the most important, prestigious, telling, and traditional wine regions in all of Italy, in all the world, are located in the Sienese province of Tuscany in Central Italy. The lands were settled by the mysterious Etruscans as early as 900 B.C. and planted lush with vines then. Some vines were brought with them and others were native to the land. The Etruscans were keen grape growers known for trellising their vines and irrigating their crops.
Florence may be the capital of Tuscany, but Siena seems to be the heart and soul. Siena is located one hour south of Florence, and two hours north of Rome. Pisa is to the northwest, and Cortona, to the east. Siena is nestled in the center of the Tuscan region with the Chianti hills to the northwest, northeast, and south, the Montagnola Senese to the west, and the Arbia river toward the south. The Merse and Elsa valleys and Crete Senesi round out the famed enologic and gastronomic omphalos.
Siena is steeped in incredible regional character and cuisine, centuries-old traditions, a millennium of Catholicism, ancient Etruscan and Roman ruins, and Renaissance and High Renaissance art and architecture. It is also drenched with wine. And, what wine it is.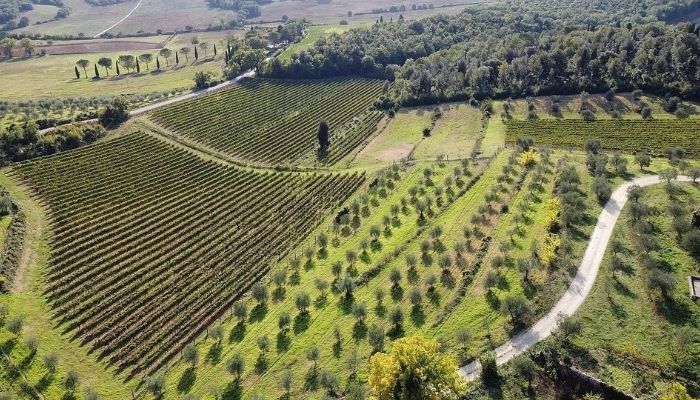 Wine
There are a few truly exceptional wine-producing regions in the world and the Sienese province in Tuscany is one of the best. Siena lies at 43' latitude, much farther north than one imagines when gazing at golden-hued landscapes. Siena is 322 meters / 1056 feet above sea level with some sloped vineyards reaching 500 meters / 1640 feet in elevation. The warm Mediterranean climate and close proximity to the cooling Tyrrhenian sea to the west make Tuscany perfect for cultivating grapes. Tuscany has long, warm summer days with cool nights, and rain in late autumn. Winters can be brisk with dustings of snow, but not with extended deep freezes that harm the vines.
It is in this perfect setting, surrounding Siena, that the most iconic wine regions in central Italy are found. It is true that Tuscany produces great wine across the region, but the truly exceptional and coveted wines come from the Sienese province. The Chianti D.O.C.G. lies in swaths to the northwest, north, northeast, and south. Chianti Classico D.O.C.G. is due north/northeast, and Brunello di Montalcino D.O.C.G. is directly south/southeast. Vino Nobile di Montepulciano D.O.C.G. is father to the south east, Vernaccia di San Gimignano D.O.C.G. is north / north west, and Colli Senesi D.O.C.G., due west of Siena. Slightly farther afield are the regions of the Valdichiana Etruscan wines to the southwest, with Morellino di Scansano and Bolgheri due west along the Tyrrhenian coast.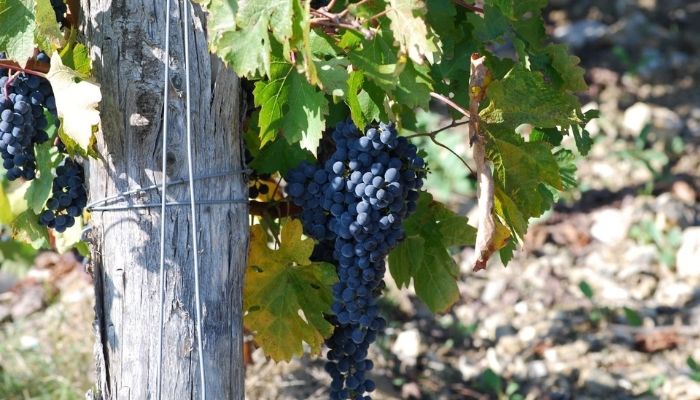 Tuscany is the land of Sangiovese, in all of its unique regional representations. An ancient grape, Sangiovese derives its name from the Latin, "Sanguis Jovis'' or "blood of Jupiter." The grape is known for its elevated acidity, and notes of fresh strawberries, regional cherries, crushed herbs, dried orange peel, and spice in its youth. In Chianti and Chianti Classico, we find ripe Morello cherries and tangy red raspberries with layers of crushed oregano and a signature spiciness that shines through the bright acidity before giving way to a moderate structure and slightly gritty tannin.
Brunello di Montalcino is famous for its single clone Sangiovese Grosso that imparts notes of rich sandalwood and a dusting of cocoa over Amarena Fabbri cherries and dark plums. Brunello offers hints of sweet tobacco, espresso, tomato leaf, and cured meats or wood smoke on the finish. Vino Nobile di Montepulciano is elegant and restrained amongst the Tuscan Sangioveses but shines with lifted acidity, gentle strawberry and cherry fruit on a backdrop of silky roasted hazelnuts, mocha, and a sprinkling of cinnamon. Often notes of sweet balsamic vinegar, coffee, leather, and charcuterie salami can be found in oak-aged Riserva and Gran Selezione bottles of Sangiovese.
In a region dominated by rosso (red) wines, Vernaccia di San Gimignano shines bianco (white) bright. First produced in Siena in 1276 A.D., and mentioned by Dante Alighieri, in his damning tome, Purgatorio, Vernaccia di San Gimignano is perhaps one of the oldest Italian white wines and the first to be elevated to D.O.C., in 1966 A.D., and D.O.C.G., in 1993 A.D. Vernaccia has racy acidity with notes of lemony citrus, crunchy green apple and under-ripe pears, fresh almonds, and a saline quality with a bitter lime zest finish. Vernaccia is refreshing on hot Tuscan afternoons.
Legacy Family Spotlight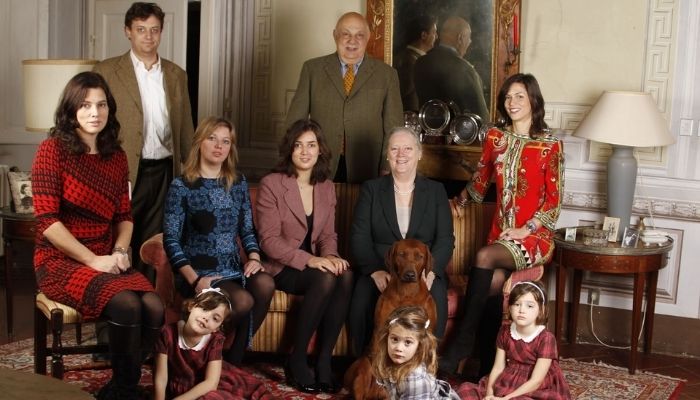 One of the most iconic wine-producing families in Siena is Bindi-Sergardi. Alessandra Casini Bindi-Sergardi is the current manager of the Bindi-Sergardi grape growing and wine-making empire that dates back nearly 700 years. Alessandra is the 23rd generation of grape growing stewards of her familial estate vineyards. Her noble family's presence in Siena dates back to the Republic, and as such, rather than being titled, they are known as patricians but consider themselves gentry farmers. Originally from Montalcino, the family moved to Siena and enrolled in "The Order of the People'' as local politicians. The Bindis and Sergardis came together as powerful historical families often do, through marriage.
Giovanni Bindi was a decorated military officer who was bestowed with a noble title in the 1400s. He married the lovely Calidonia Sergardi. The couple didn't have children of their own but adopted a brother's son and bestowed him with the name Bindi-Sergardi. Famous and powerful ancestors include Niccolò di Giovanni, who in 1463 became the Magistracy of the Republic; Achille, in 1519 was bestowed The Master of the Salt, and his son, Niccolò, who in 1530 became the orator to Pope Clement VII. The Bindi-Sergardi family began growing grapes on their Sienese estate decades before the famed Frescobaldi or Antinori families broke ground.
Their wine cellar dates back to 1067 A.D., and their wine company was established in 1349 A.D., making it one of the oldest in the world. Storied, not only in Italy, the modern Bindi-Sergardi generations have deep roots in the United States too, through their mother Joan. Her ancestors settled in the American colonies in 1635 A.D., and her great-great-uncle even signed the Declaration of Independence. Alessandra's parents met at a bridge tournament in 1968 A.D., and their love story gave birth to the modern Bindi-Sergardi wine company.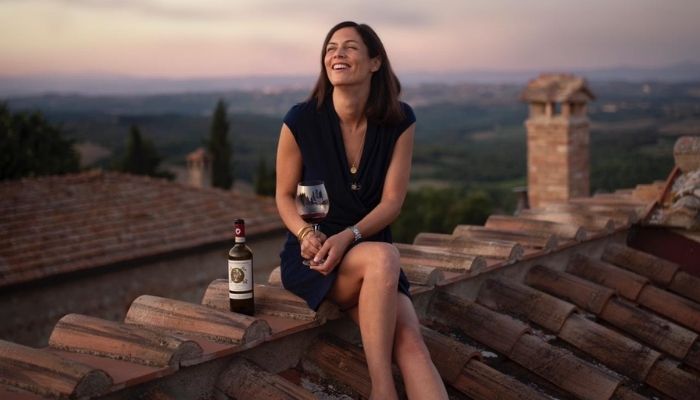 Alessandra Casini Bindi-Sergardi
Upholding another family tradition, Alessandra went out into the world after university to find her own path and career. Wine was in her blood and she worked for Antinori for several years, learning everything that she could about the international wine business. Alessandra became the manager of her family company in 2005, taking her father's place at the helm. He was more interested in growing and selling grapes while tending to his passion, horses.
Alessandra instinctively knew the elevated quality of their fruit, boldly rebranded the company, and launched an impeccable range of wines from her vineyards situated around Siena. Adhering to her creed: Audacity, Integrity, and Authenticity, she planned to honor her family identity and heritage while modernizing production and entering the world stage through new distribution channels. We are thankful that she did.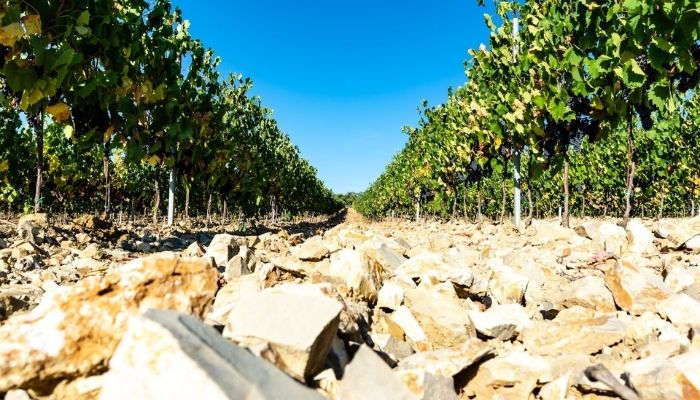 Bindi-Sergardi crafts wine from three estates around Siena. Tenuta I Colli, Mocenni, and Marcianella. The family cherishes their heritage and their lands by extending the utmost care to the environment across their estate vineyards and the wildlands surrounding them. Attention is paid to natural grape growing practices and organic principles with the wineries employing sustainable technologies across each estate. Tenuta I Colli was established by the Bindi-Sergardi family in the 1400s in the northern sector of Siena.
It is here, amongst the limestone "Il Gaillo di Siena'' soils, enriched with calcium carbonate that the region is known for, that Sangiovese vines thrive. The region is also rich in Giallo Siena marble, a world-famous, precious yellow marble that graces palaces and museums across the European continent. The Tenuta I Colli estate spans the Monteriggioni and Vagliargli territories and the Chianti and Chianti Classico D.O.C.G.s. The Mocenni Estate lies north of Siena but at the southern border of Chianti Classico. It is a single vineyard parcel abutting a forest creating a south-facing sloped amphitheater with a unique microclimate and land constructed of galestro schist and alberese limestone marl soils.
The fortress constructed on the estate dates back to 1067 A.D. and was once a military protector for Siena. The Marcianella estate has been under vine since the 6th century B.C. when the Etruscans settled the lands of Chiusi just south of Siena. Each estate imparts unique qualities to the wines Bindi-Sergardi produces. Alessandra owes these perceptible variations to the individual soils and microclimates within each estate, "soil makes all the difference with Sangiovese," she states. Bindi-Sergardi focuses on Sangiovese, the signature grape of Tuscany but also rears tiny amounts of Cabernet Sauvignon and Merlot at Mocenni.
The Bindi -Sergardi family were amongst the founding members of the Chianti Classico Consorzio in 1924 A.D. Their dedication to Sangiovese is admirable in a region known for experimenting with international grape varietals. Climate change is another constant consideration for wine producers in 2020. Tuscan winegrowers are not immune to the noticeable changes across the wine-producing world. Alessandra imparts, "global warming, yes, the climate has changed, no doubt...my dad used to harvest around October 1st but now we are harvesting two weeks earlier, around September 20th." Grape growers, in efforts to mitigate climate disasters, are moving vineyards slowly to higher elevations and Sangiovese clones are prone to earlier maturation. The question remains, how much higher in elevation can vineyards go without displacing wildlands and protected forests? Will Tuscan vintners continue to explore international varietals and hybrids to modify their wines to endure in a warming world?
Still, Alessandra says that there are "deep roots in her winery and she wants it to give fruit to her legacy…" while honoring her family's Sienese heritage. In efforts to honor this legacy, the Bindi Sergardi family selected a familial coat of arms, crests, and emblems unique to their estates, properties, and palaces, for the wine brand labels giving a historic and traditional look to their wines. This is just one more indication of Alessandra's commitment to family and legacy. Alessandra, with her vision and focus on preserving the beauty of her lands, is "going back to traditions and Sangiovese is the expression of Siena and of Tuscany."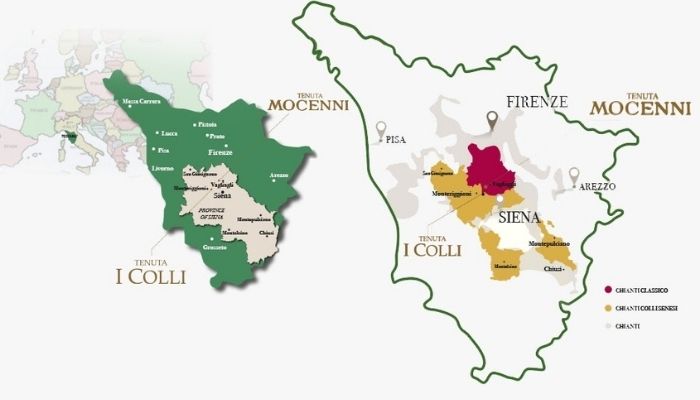 Tasting
I was only able to find one Bindi-Sergardi wine in Colorado, where I live. I'd tasted Al Canapo Chianti Senesi D.O.C.G., La Boncia Chianti D.O.C.G., and Nicolo Toscana IGT in Italy last fall and was immediately enchanted with the brand. When I found two bottles of the Achille, from the Tenuta I Colli estate, I snapped up both. I couldn't wait to uncork one and revel in its luscious decadence. The other, I will squirrel away for a cold winter's day and a rustic Tuscan cucina povera* inspired dish of Ribollita soup or a savory Tagliatelle al Tartufo followed by a Cantucci almond cookie and a glass of Vin Santo.
Achille, Tenuta I Colli, Toscana Rosso IGT, 2018, is 100% Sangiovese.
Achille spends 15 days in stainless steel tanks, undergoing a temperature-controlled fermentation at 28'C. The wine is transferred to oak barriques for malolactic fermentation and aging before its release.
Aromas and tasting notes: Ripe Morello cherries, blackberry, strawberry, fruity and intense, crushed oregano, and a signature hint of dried orange peel and spice. History, tradition, and territory, in a glass.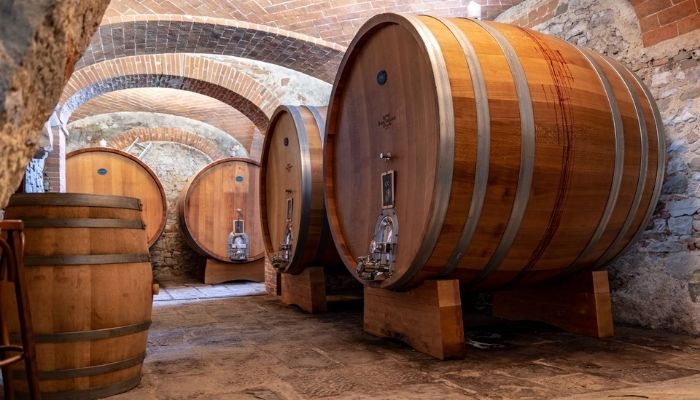 The Wines of Bindi-Sergardi
Tenuta I Colli Estate Wines
Ser Gardo Chianti Classico D.O.C.G.
I Colli Riserva Chianti Classico D.O.C.G.
Al Canapo Chianti Senesi D.O.C.G.
La Boncia Chianti D.O.C.G.
Achille Toscana IGT
Nicolo Toscana IGT
Symbiosis Toscana IGT
Mocenni Estate
Mocenni 89 Chianti Classico Gran Selezione D.O.C.G.
Calidonia Chianti Classico Riserva D.O.C.G.
La Ghirlanda Chianti Classico D.O.C.G.
Mocenni 91 Cabernet Sauvignon Toscana I
Images courtesy of Bindi-Sergardi
Article Written by:Simone FM Spinner
Get Feedback From On-Premise Buyers, Wine Directors, and Master Sommeliers. Enter Your Wines Before January 31, 2024, To Save.