Why You Should Enter The Sommeliers Choice Awards

12/01/2022 Sommeliers Choice Awards gives you the perfect opportunity to grow your On-premise presence in the US.
The Sommeliers Choice Awards provides on-premise buyers and industry professionals a valuable benchmark for recognizing wines that would make a compelling addition to a wine list. For a wine producer who is looking to sell more wines to the on-premise establishments such as restaurants, hotels, pubs, and bars of the US, then this is a great opportunity. The judging panel of the Sommeliers Choice Awards consists of some of the renowned Sommeliers, On-premise Wine Buyers, and Wine Directors on panel. Maximilian Kast MS, Mikayla Avedisian-Cohen, Gillian Ballance MS DWS are some of the renowned industry professionals on the panel.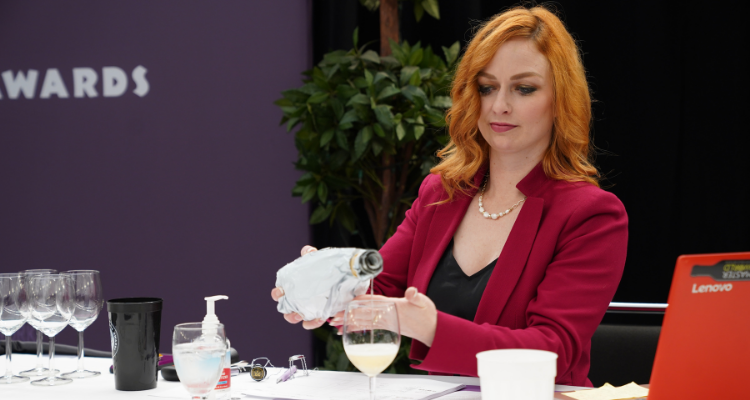 Sommeliers Choice Awards judge - Tiffany Tobey
View the Judges for Sommeliers Choice Awards 2022 here
"Winning a Medal for back-to-back vintages of our estate-grown Cabernet Sauvignons from such a prestigious competition highlights the quality of the wines we produce year after year," says Derek Holstein, Winemaker at Cache Creek Vineyards and Winner of the Sommeliers Choice Awards 2021.
Being a part of the Sommeliers Choice Awards is an easy, affordable and effective way to get your wines tasted by an all-star judging panel of top sommeliers, many of whom are also wine industry consultants and buyers. Here are some of the few reasons why you should enter your wines for the Sommeliers Choice Awards:
Raise The Profile Of Your Wines
Winning a Sommeliers Choice Awards offers your wine a mark of excellence that is recognized across the wine industry. Especially if you are a wine producer or merchant from a non-U.S. wine destination, this will offer you a perfect chance to win recognition for your wines within the U.S. marketplace.
Get In Front Of A Hard-To-Reach Audience
The judging panel of the SCA will consist entirely of top Sommeliers, On-premise Wine Buyers, and Wine Directors at U.S. restaurants, bars, pubs, and clubs. The Sommeliers Choice Awards also offers you an opportunity to reach a large group of these influential trade professionals.
Get Scores Feedback
Get to know how your wines did in Quality, Package, and Value via score breakdown.
Relevant Judging Criteria For On-Premise Sector
If you aim to get your wines on wine lists of renowned restaurants, hotels, and bars, winning an SCA medal will help you increase your presence in the On-Premise sector as the wines will be evaluated by and for the on-premise.
Winners Would Get An Unparalleled Global Reach Via The BTN Network
All the winners of the Sommeliers Choice Awards are fully supported by the Beverage Trade Network in promoting their new medals or awards.
Give the Consumer A Sense and Stamp of Approval
A shelf talker or medal on the wine will offer consumers a sense of approval while purchasing your wine.
Promote Your Award-Winning Wines
All the winners of the Sommeliers Choice Awards are fully supported by the Beverage Trade Network in promoting their new medals or awards. Some of the promotional support includes:
- Prominent listing on the Sommeliers Choice Awards website
- Press release mention of all winners at the conclusion of the event
- Social media marketing support
- Medal stickers for bottles
- Award logos and other promotional materials (available for download)
- Special features on all Gold Medal winners
- Entry into Top 100 Wines List for On-Premise market
Benefits for Medal Winners
Medal Winners would receive additional benefits such as special promotional logos and stickers that they can add to wine bottles, social media marketing support, and regular mention in both press releases and on the SCA website. It will also continue to benefit your wine sales for years to come.
As a result of winning a medal at the Sommeliers Choice Awards, you will be able to:
- Increase your sales within prominent U.S. wine market
- Reach a new audience of on-premise buyers, consultants, and sommeliers
- Promote your awards in key international markets
- Attract international PR and media attention for award-winning wines
- Increase the reach and recognition of other wines in your wine portfolio

Read More about the Winning Impact here.
Register your brand today. Enroll now.
Get Feedback From On-Premise Buyers, Wine Directors, and Master Sommeliers. Enter Your Wines Before January 31, 2024, To Save.