Make a Toast to your Dad on Father's Day with the Finest-Quality Wine

20/06/2022 Celebrate Father's Day by making lots of memories with your dad that you can cherish along with one of these award-winning wines!
Father's Day 2022 is just around the corner, which means it's time to celebrate the hero of our lives. Father's Day is about appreciating the person who raised you and spending time with him. When you think of gifting him it does not have to be about the cliched ties, socks, or a Best Dad mug. You can think about something special which will make him feel that you appreciate him and know his choices, like a good bottle of wine.
A bottle of wine can be a wonderful gift and if you choose something with sentimental value like a wine that your father cherished in the past or something that you both enjoy drinking will show that you care for him. You both can enjoy a glass of wine in each other's company and talk about good 'ol memories!
So, this Father's Day Tempt your dad's taste buds with some of the award-winning finest quality wines, whether he enjoys deep reds, refreshing whites, or crisp rosés. As a tribute to the fathers all over the world, here are some of the wine selections that originate from family estates where winemaking traditions are passed down through generations.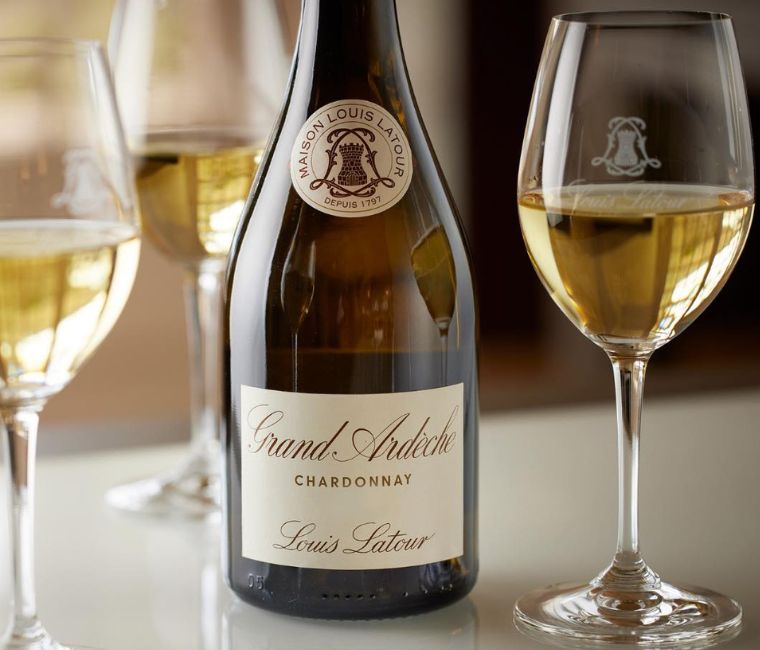 Image Source- Louis Latour
Louis Latour's Grand Ardeche Chardonnay 2019
The Grand Ardèche is sourced from the best vineyards, which are hand-picked each year before harvesting starts. The grapes are crushed and are immediately placed in oak barrels constructed by the Latour cooperage, where the wine will age for around 10 months, just like the famous Burgundy wines. You can treat your father with Louis Latour's award-winning Grand Ardeche Chardonnay 2019 which has won the award of Best White Wine of the Year 2022 in the Sommeliers Choice Award, which is one of the most prestigious awards a wine can receive. While keeping its classic image, Maison Louis Latour is one of the innovative producers of Burgundy. The Ardèche river valley, with its clay and limestone-based soils, was selected as the ideal place to make top-quality Chardonnay wines in 1979, with the goal of developing the business.
Tasting Note- Pronounced aromas and flavors of toast, cedar, smoke, vanilla butterscotch, Meyer lemon, golden apple, and pear are perceived. A balanced wine with decent fruit flavors leads to a pleasant and fuller mouthfeel.
Producer Name-Louis Latour
Country- France
ABV- 13.5%
Food Pairing- You can enjoy this refreshing white wine with charcuterie, shellfish, and fish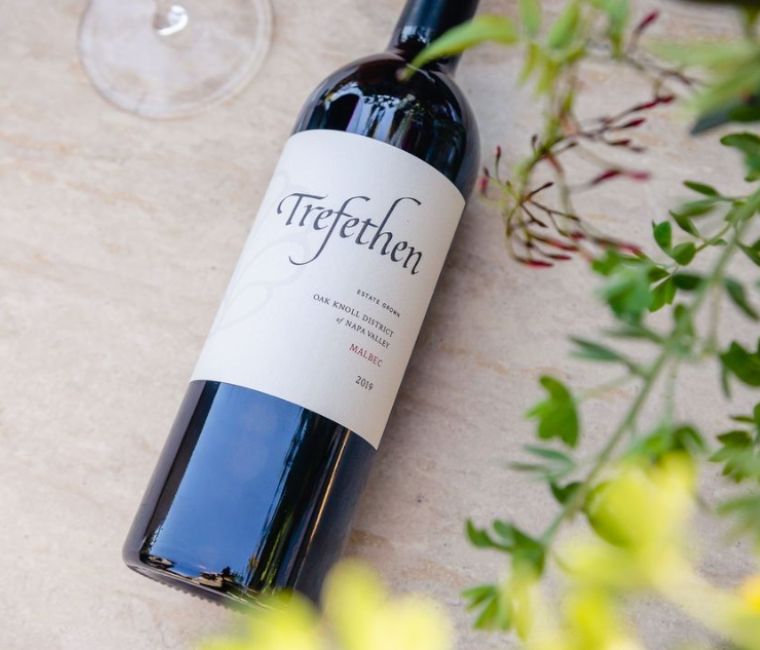 Image Source- Trefthen Family Vineyard
Trefethen Family Vineyards' Merlot
Trefethen Family's Merlot is one of the best that you can get from Napa Valley. Merlot thrives in cool climates with wet soils, making it a great match for parts of their estate vineyard in Napa Valley's Oak Knoll District, a perfect location between the warmer up-valley regions and the cooler southern tip. This fruity red wine has won the award of Wine of the Year by Varietal 2022 in the Sommeliers Choice Award. The Trefethen Family Vineyards are the pioneers in the Napa Valley and they promote the estate-grown wines. They've meticulously maintained their land, workforce, and customers for three generations, earning a loyal following for their tradition of exquisite, age-worthy wines with a profound sense of place. We recognize the importance of good quality wines in your life. You deserve a wine that makes you feel happy, whether it's for a wedding, a special occasion like Father's Day, or a quiet family meal.
Tasting Note- Fruit-forward nose with raspberry, blackberry, black cherry, and boysenberry with hints of exotic spices. It has a juicy velvety texture on the palate with a refreshing acidic finish.
Producer Name- Trefthen Family
Country- United States
ABV- 14.1%
Food Pairing- You and your dad can enjoy this bold and elegant Merlot with roasted chicken, mushrooms, and parmesan cheese in Italian cuisine. You can also pair it with roasted Mushrooms with arugula and potato-parsnip purée.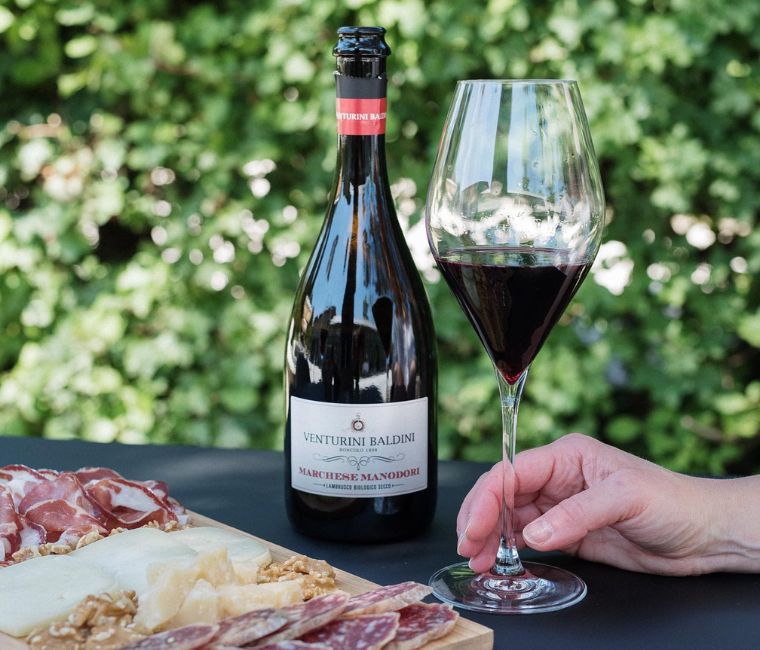 Image Source- Venturini Baldini
Venturini Baldini's Marchese Manodori
Venturini Baldini's winery makes some of the most unique wines and they are developed in the Emilian winemaking tradition and Marchese Manodori is one of them. This wine is extremely flavorful with a spicy aroma of clove and pepper and will be loved by any sparkling wine lover. Marchese Manodori has also won the award of the Sparkling Wine of the Year in the Sommeliers Choice Award. In 1976, the agricultural estate Venturini Baldini was built on a historic estate in the hills surrounding Parma and Reggio Emilia, in the Reggio Emilia region. The hills, which rise to a height of 370 meters, create an ideal microclimate for growing grapes, with the sun penetrating through the winter fog and cool greenery moderating the summer heat. Venturini Baldini has produced high-quality wines in Emilia from the beginning. Their wines are unique and developed in the Emilian winemaking tradition.
Tasting Note- Fruit-forward wine driven by tart blueberry, ripe blackberry, black cherry, and blue plum aromas. Flavors of red and black fruit are perceived on the palate.
Producer Name- Venturini Baldini
Country- Italy
ABV- 12%
Food Pairing- This well-balanced medium-bodied wine goes well with rich first courses, salami, and pork ribs. So, you can treat your dad with some delicious pork ribs along with Marchese Manodori!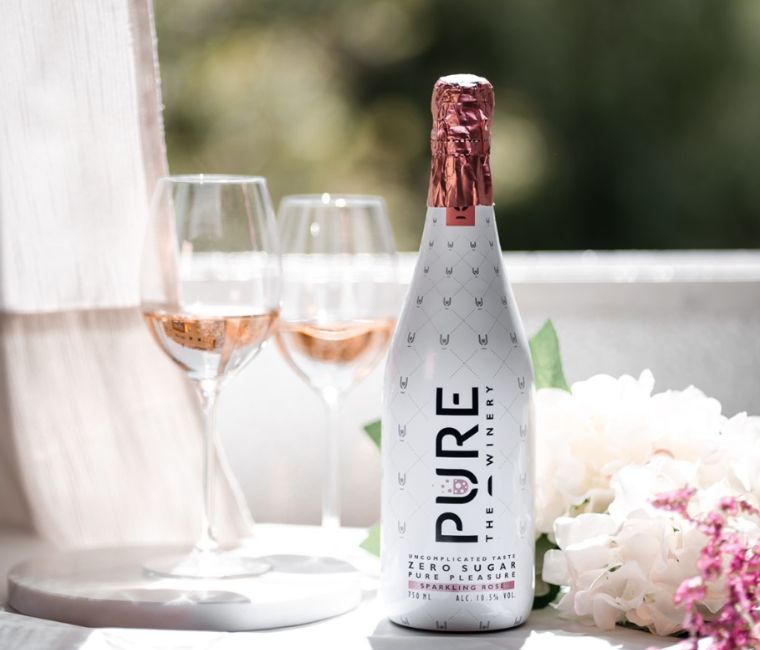 Image Source- Pure The Winery
Pure The Winery's Pure The Winery Sparkling Rose NV
One of the best rose wines that you can taste is Pure The Winery Sparkling Rose NV. You can enjoy this light wine filled with fruity and flowery aroma with your family and friends at any time of the day or night. This rose wine won the award of the Best Rose Wine of the Year 2022 in the Sommeliers Choice Award. The PURE The Winery was established with the idea of creating a new type of wine to fulfill the needs of today's consumers. They have successfully turned every natural sugar into alcohol by combining unique and conventional procedures in their wine fermentation process. They have a wide range of zero-sugar wine for any event, from red and white to sparkling white and sparkling rosé.
[[relatedPurchasesItems-41]]
Tasting Note- Bouquet of citrus and bright red fruits on the nose. A pleasant and light wine with elegant bubbles and bright fruit flavors.
Producer Name- Pure The Winery
Country-Italy
ABV- 12%
Food Pairing- Sit with your dad and enjoy some fish tacos, prawn ceviche, or oysters with Pure The Winery Sparkling Rose NV.
With these amazing award-winning finest quality wines enjoy Father's Day with your dad. Surprise him with his favorite type of wine and fill his day with joy and great laughs. He will love the idea of creating good memories with his favorite people. If you are interested to know more about the different types of wines that you can enjoy with friends and families to celebrate some special day or any occasion visit Sommeliers Choice Awards.
Written by Aparna Dutta, Beverage Trade Network
Get Feedback From On-Premise Buyers, Wine Directors, and Master Sommeliers. Enter Your Wines Before January 31, 2024, To Save.