California: Harvest Update 2021

05/10/2021 Producers and experts are hopeful that the 2021 California harvest season will produce a "quality over quantity vintage" as the region has received little rain for two years in a row.
The overall yield is predicted at 3.6 million tons, lower than California's 4-million-ton average but shaping up to be similar to 2020's low-yielding smoke-tainted vintage because of the series of wildfires in the state.
The harvest weather has been positive in general – the consistently warm, dry temperatures and severe drought conditions have accelerated the ripening and brought forward harvest dates. Yes, unlike other crops, lack of rain can actually benefit wines than destroy them. Drier conditions have helped keep the fruit clean with close to no reports of mildew or rot.
With the growing season and harvest starting early and in full swing, it is good news because mother nature is uncertain around parts of California this time around and the threat of wildfires is always looming large.
Yield-wise, a lighter crop is being reported in regions of the Lake, Mendocino, Napa Valley Counties, and the biggest provider, Central Valley. Some areas on the Central Coast, parts of Sonoma County, and Lodi may produce a higher yield, but it is still too soon to tell. While the drought could result in significantly better quality, the shortage of rainfall has led to drier soils, causing inconsistent growth in grapes, which in turn has led to a lower yield.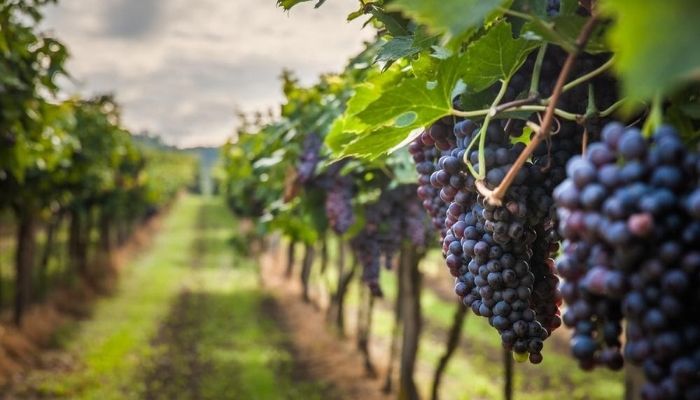 Here's a brief overview of the major growing regions:
North & Central Coast
Cabernet is already being picked on the North Coast, a process that generally begins around October. Although different areas and varietals have different picking times, early picking is the pattern being witnessed across the coast. All indicators are pointing to the crop coming in lighter than average. Chardonnay is coming in light in Los Carneros and Mendocino but is booming in Alexander Valley and parts of the Russian River. Harvest and pickings are looking good this vintage on the Central Coast. However, San Miguel and Northern Paso Robles have reported a 10% shortfall compared with last year.
Central Valley
Chardonnay and Zinfandel are coming in considerably lighter. Cabernet and Merlot are already being picked even before Sauvignon Blanc in some regions. The drought has had a severe effect on the crops in this region, so it would come as no surprise if Lodi's crop comes out potentially lighter.
All in all, winemakers across the regions are singing a similar tune – while yields may fall below estimates, the quality of grapes in terms of flavors, concentration, and aromas have been fantastic and outstanding. Hopefully for the growers, if the quality stays intact, lower yields could fetch better prices. Still, the market is uncertain post the pandemic, and predictions are tough to make regarding travel, tourism, hotels, and restaurant sales. It will be interesting to see how things pan out in the next few months, but demand-supply seems balanced for now.
Article Written by: Prithvi Nagpal, Sommelier
About the author
Prithvi Nagpal is one of the youngest sommeliers and critics in the world and is on course to complete his WSET level 4/ diploma in wines and spirits from Hong Kong. Extremely passionate about wines and spirits, He runs a beverage consultancy and a luxury wine and spirits review page on social media where he reviews premium, artisanal wines, and spirits to create awareness and help grow the culture.
Get Feedback From On-Premise Buyers, Wine Directors, and Master Sommeliers. Enter Your Wines Before January 31, 2024, To Save.