"Listen Thoughtfully and Be Creative" - Martin P Griffin

08/09/2022 Certified Sommelier and CSW, Martin P Griffin's advice for suppliers to help drive wine sales
Martin P Griffin has a shining personality, currently the sommelier at the Casa Don Alfonso at the Ritz-Carlton, St. Louis, he is also a Certified sommelier and a Certified Specialist Of Wine. He is solely responsible for the wine program at Casa Don Alfonso as well as designing and teaching a staff training curriculum. In this insightful interview, we get to know more about Martin, an extremely passionate and knowledgeable sommelier, as well as his thoughts on building a wine program and successful wine strategies.
Tell us a little bit about yourself. How did you begin your career and how did you progress into this role?
I started out working in restaurants while I was in college because the money was pretty good, and it was easy to schedule full-time work and full-time school at the same time. I actually ended up in St. Louis to pursue a graduate degree in music (specifically Musicology), which I ultimately decided wasn't for me, but I had steadily started working in better and better restaurants and started getting more and more interested in wine. When Casa Don Alfonso opened up, it was like a dream job opportunity landed in my lap. I tell people every day I've got the best job in the world, and it's been a lot of fun!
Define your role and the tasks involved in your role
On the floor, I am the go-to person our guests talk to when they are interested in a bottle of wine with dinner, but I also help out wherever I can, be it bussing, running food, running drinks, whatever I can do to help the overall flow of the restaurant. Behind the scenes, I spend just as much time (if not more) carefully selecting by-the-glass and by-the-bottle wines that best fit our program at Casa Don Alfonso, and this, of course, includes inventory and ordering. I'm also responsible for designing and teaching a staff training curriculum, and occasionally I am asked to advise or assist with functions in other areas of the hotel since we are attached to The Ritz-Carlton, St. Louis.
If not a sommelier, what else would you have been?
When I was younger, I wanted to be a musician or a singer/songwriter. Unfortunately, it turns out I can't sing that well, which led me to study music in a more academic setting. Incidentally, I've found throughout my career that the things I learned studying music have lent themselves to studying wine and being a sommelier as well. Probably the best takeaway from my music studies was being forced to perform on a regular basis. I used to have terrible stage fright, so much so that I nearly failed my audition to my undergraduate program. But with hours upon hours of practice and through much trial and error, I was able to find what worked for me so that I could channel that energy into something positive. Since working the floor as a sommelier is somewhat performative as well, this experience has proved invaluable, whether I'm approaching a table to talk about a bottle of wine or speaking to a large group about a particular food and wine pairing we've put together (now one of my favorite parts of the job).
What questions would you ask the restaurant owner before you plan your wine sales growth strategy?
What is the identity of your restaurant? More than anything, I think this will help give direction to a wine program beyond the price points, mark-ups, beverage cost, etc. Nowadays, you can find quality wine at every price point and from all over the world. Having a wine program that matches the identity of your restaurant (food, ambiance, style of service, etc.) will help narrow the focus and make selecting wine easier. I told several of my sales reps over the first couple of meetings that at Casa Don Alfonso, we are an Italian restaurant that inherited a steakhouse wine list.
Since then, we have made a concerted effort to reflect the Italian roots of our restaurant while also having a unique and diverse selection of wines from around the world. Seeing the two come together has been a joy, and our guests have complimented our list, which makes all the hard work worth it.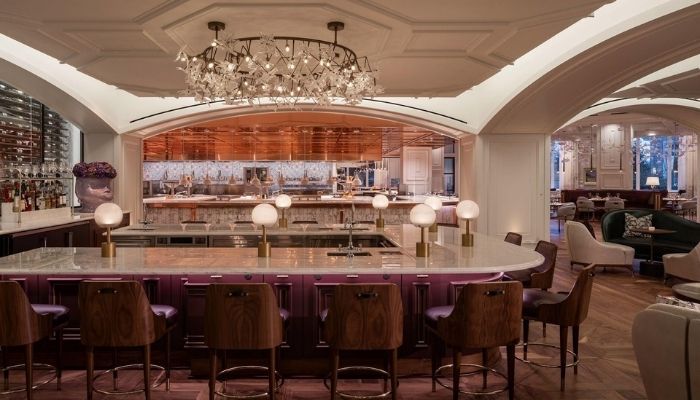 The Casa Don Alfonso at the Ritz-Carlton, St. Louis
How can suppliers work with you to drive sales?
Listen thoughtfully. If I'm asking about specific wines, bring me the best examples you can think of. But don't be afraid to be creative as well. Our list obviously trends towards Italian wines, but beyond that, I want to have as diverse a list as possible. Feel free to bring me anything I don't already have; you never know what might work!
What are the three main things you focus on daily in your role?
First and foremost is the quality of our wines. This includes ensuring they are being stored correctly and that the by-the-glass wines are suitable for serving. Next is preparation. We usually have a dozen or so ice buckets filled to start the shift to keep white and sparkling wines (or red upon request) chilled for our guests, and of course, we need to make sure we have adequate glassware ready for the night. Last but certainly not least, communication is key.
Every day at our pre-shift line-up, I make a point to let the servers know about anything that has changed, whether we have any special offerings for the evening. Periodically we taste one of our by-the-glass wines so the servers can feel confident when they are talking with our guests tableside. It's also a great time for them to ask me any questions they might have about our list of offer some educational material to assist with wine service.
What are the points you look at when selecting a new wine for your wine program?
Quality is one of the biggest factors. We have wines in a wide variety of price points, but I only bring in wines that I can stand behind at their price and that I can feel confident the guest will enjoy. It also has to fit our program in some way. With the Italian focus of our food menu, many of our wines naturally come from Italy as well. Within that, we try to have a diverse and comprehensive selection of Italian wines from a variety of regions, in a variety of styles, and at a variety of price points. Outside the Italian wines, I try to bring in wines that will make our list as unique and diverse as possible.
Define a good sommelier and what qualities you would look for when hiring one.
Knowledge is key, but personality is paramount. People from all walks of life walk through our doors, and every one of them deserves to be treated with the utmost respect and the highest level of service. Wine can be a dizzying subject for the uninitiated, but no one wants to be talked down to when asking about your wine list, and if they are, they won't come back. Humility is an asset to a sommelier, and the ability to read a guest and target their wants and needs is sometimes more important than theoretical knowledge.
What do you look for when you have to evaluate the effectiveness of a wine program?
Of course, beverage cost is important, and hitting sales targets is always a concern. But, again, the most important thing to me is the wine list reflecting the identity of the restaurant. After that, selecting wines that will sell effectively becomes easy.
If you had to pick one red and one white wine as your personal best, which wines would they be?
Some of my favorite reds lately have been Etna Rossos. They drink with the elegance of a Burgundy or an Oregon Pinot Noir, but have a unique volcanic soil hint that really sets it apart. They come in a variety of quality and price levels, so there's one to enjoy at any budget and for any occasion. White wine-wise, I've been really into Nascetta lately. It's a Northern Italian white grape with flavors reminiscent of an unoaked Chardonnay, but with an herbaceous (sage) undertone that makes it a natural pairing with Thanksgiving dinner. It will be on my table this holiday season for sure.
Wine involves a lot of storytelling, what's your go-to wine story?
My new favorite involves a recent addition to our list: Sheridan's "Boss Block" Cabernet Franc. As the story was told to me, the wife of someone from the winery (the vineyard manager, I think) asked to have a wine named after her. After deciding that "Karen's Cuvée" didn't have quite the same ring to it, they settled on "Boss Block" because she's the boss. When I heard that story, I knew I had to get that wine. As I like to tell our guests, there are two people in this world I refer to as "The Boss:" Bruce Springsteen (I'm an East Coast transplant, and still a Jersey Boy at heart), and, of course, my lovely wife. So I can sympathize with that sentiment!
Is Price = Quality in Wines? What's a value for money wine that you would recommend.
Quality can be found at just about all price points. On our list, we have some "bang for your buck" wines as well as "cream of the crop" selections, and everything in between.
The best and worst part of your job
The best part is the interaction with satisfied guests. One of my favorite moments on the restaurant floor is when I've introduced a guest to something new, and later I catch them holding the bottle in their hand reading the label because they want to know more. Sometimes they tilt their head to try and read the label while I'm pouring to refill their glass.
Either one is a great compliment and a sign that I've done my job well. The worst part, honestly, is probably that it makes my work schedule the opposite of so many of my friends and family. Luckily, my wife is working from home currently with everything that's been going on, so we still get some time together, but this industry can be tough on people's personal relationships.
Any favorite food and wine pairing suggestions
My absolute favorite pairing on our menu and wine list right now are our tuna tartare paired with our Etna Brut Rosé. It's got a beautiful strawberries and cream flavor that is a magical pairing with a little bit of kick in the tartare.
Favorite Song, Podcast, and Book
I like music in the same way I like wine, so to pick one favorite would be impossible. It depends entirely on the situation and the mood. I haven't gotten into podcasts too much yet, but my favorite book would have to be The Outsiders. I must have read that a dozen times at least. That and anything by Roald Dahl.
2023 Submissions are closed. The Deadline for receiving samples in the warehouse is April 30, 2023.