Know Your Winemakers: Duncan Shouler, Chief Winemaker for Giesen Group, New Zealand

25/10/2022 Duncan Shouler talks about The No-Lo Wine at Giesen and tips to become a good winemaker.
From studying Marine Biology to obtaining Masters's Degree in Winemaking, Duncan has come a long way. He is a Chief Winemaker for Giesen Group, based in Marlborough, New Zealand. He found it really interesting, especially the connection between wine and food, and with the local vineyards.
Know more about him and his experiences in the wine space below.
Tell us a little about your background and journey into winemaking.
Growing up in England and studying marine biology in Scotland, but somehow stumbled into the wine industry. After beginning marine biology studies in Scotland, I transferred to the University of Auckland for my final year. Sold on the kiwi outdoors life I remained in New Zealand after my studies, moving to the Bay of Plenty as a scuba instructor. After a couple of years, I returned to university completing a Masters's Degree in Winemaking.
While studying winemaking, I worked and undertook research in Marlborough and for the following few years, I gained winemaking experience throughout New Zealand including Martinborough and Central Otago, as well as completing vintages in Bordeaux and California. My experience at boutique wineries, large operations, and every winery in between has shaped my winemaking approach, and I always aim to incorporate small, hands-on winemaking techniques and philosophies, even when making accessible, good-value wines.
The Wine World is vast, and there is always more to learn, and this has led me on the journey of becoming a Master of Wine, where I am currently a Stage 2 student. A large portion of my winemaking career has focused on Pinot Noir. I love the challenge of this fickle variety and its ability to express its origins so clearly. That said, I love all wine and all varieties - my favourite wine is the next bottle I'm about to open that I haven't tried before.
Your current role and what does your day look like?
My current role is Chief Winemaker for Giesen Group, based in Marlborough New Zealand. At this time of year (Spring) my typical day is quite heavily desk-based, unfortunately! Lots of demand/supply planning, some product development, and working with the team to keep our bottlings on track, etc. Budburst is underway here in Marlborough, so I'm spending a bit of time with the viticulture team and assessing the early stages of the 2023 grape growing season. During vintage, most of my time is spent in our vineyard blocks, assessing fruit quality and making picking calls.
What inspired you to become a winemaker?
I developed an interest in wine at quite a young age actually. I put that down to a couple of years of growing up in Cyprus in the Mediterranean. As a family, we would eat out at local tavernas 3 or 4 times a week, and mum and dad would often drink the local village wine with the food. Somehow I found it really interesting, especially the connection between wine and food, and with the local vineyards. That sparked my interest and then moving to New Zealand in 2000 presented an opportunity to actually get involved and build a career in the industry.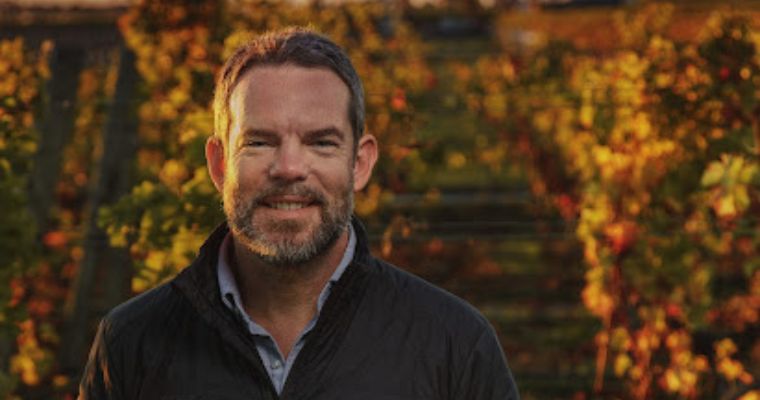 Image: Duncan Shouler
What are some of the most important skills for a winemaker?
A good understanding of the science behind winemaking and grape growing is essential really. That forms the foundation, and then after that, it's all about having the ability to use that knowledge to deliver a vision for a vineyard and a wine style.
How do you think a winemaker can help in driving marketing and sales personally?
A winemaker really needs to be closely connected with the consumer. And so a winemaker can really contribute to both marketing and sales by getting themselves out there and being accessible to the consumer and to customers. This can be through media, promotion, tastings, dinners, etc. When it's done well, a winemaker can really add value to the products
Define a good winemaker.
A good winemaker has three key things for me:
1) a great connection with the vineyard(s),
2) a great connection with the consumer,
3) a great connection with their team.
If a winemaker knows what a vineyard can deliver in terms of quality and style, knows what the consumer is looking for in their wine (whether that be a $5 wine or a $500 wine), and then understands how to deliver this consistently, then for the large part they can't go wrong!
What is the hardest part of a winemaker's job?
Accepting when you got it wrong!
What do you do when you are not making wine?
I love to be outdoors, so when I can I do some hiking and scuba diving or free diving. I'm also a bit of a BBQ enthusiast, so a perfect afternoon for me is cooking, eating, and drinking with family and friends.
What are the current challenges winemakers are facing according to you?
I think consumer preference is changing quite rapidly at the moment. Wine drinkers increasingly want more than just bog standard wine they want natural wine, minimal intervention, No-Lo, etc. So I think the big challenge is to stay innovative.
What skill or topic are you learning currently in wine and why?
At Giesen, we are heavily invested in the No-Lo wine category. So for me and the team, we are continuing to learn how to better these products. How do you make wine with low or no alcohol, and still respect the essence of wine? It's tricky, but we are making great progress.
[[relatedPurchasesItems-41]]
What is your idea of a good life?
I'm not particularly materialistic. So for me, a good life is maximum time with family and friends, the ability to travel, and plenty of opportunity to eat and drink as much as the World has to offer!
Your favourite 2-3 wine books?
The World Atlas of Wine by Hugh Johnson and Jancis Robinson, and Making Good Wine by Bryce Rankine.
Header Image: Duncan Shouler
2023 Submissions are closed. The Deadline for receiving samples in the warehouse is April 30, 2023.