Know Your Winemakers: Brian Crew, Winemaker at Cellar Beast Winehouse.

27/09/2022 "Behind Every Great Winemaker is a Great Vineyard Team", Says Brian.
Brian Crew is an award-winning winemaker and the maker of the wine Midnight Archer, brings expertise, professionalism, and a dash of fun to Cellar Beast Winehouse. Brian has a degree in wine tasting and analysis from UC Davis, an Oregon wine expert certificate, and a sommelier certification from the Wine School of Philadelphia. There is no doubt that Brian's attention to detail is a key component of his excellent wine quality.
Tell us a little about your background and journey into winemaking.
Even before being in the industry, I was eager to try wines, introduce new findings to friends and family, and expand their horizons. Not much later, I jumped into the industry as a cellar worker trying to understand the more technical aspects of winemaking so I could explain it better in writing and conversation, and that's when I met winemakers Mark Pagliaro and Matt Check and worked my way to assistant winemaker with them as my teammates. My first signature wine, Arrowhead (a Bordeaux-style blend) that I released made me realize how important it was for me to share my passion for French-inspired blends. Now I'm fortunate enough that I get to show the world my signature wine Midnight Archer next, and especially grateful we've gone off on our venture together as the winemakers of Cellar Beast, bringing on an associate winemaker, Erika Assise, and sommelier Aaron Gratch- along with our investing partners (that are also sommeliers) and that we all get to work together sharing our passion of wine as well as the joy of physically making our passions come to life in each bottle. I love having people taste the progress of these wines with me and having them collect our vintages just as they would with the very wines that have inspired us.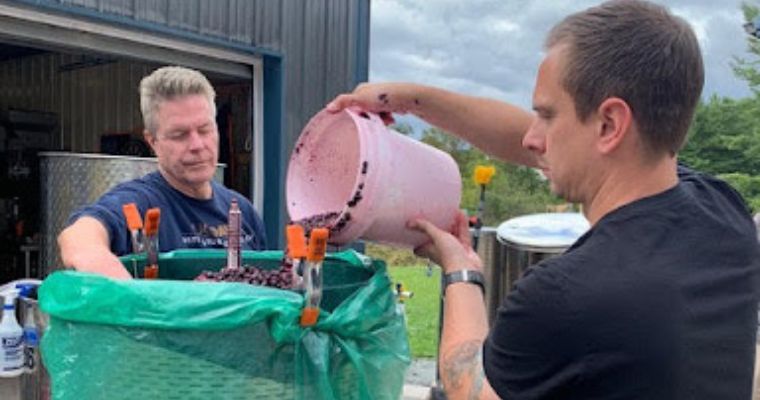 Image: Mark Pagliaro & Brian Crew loaded the Eola-Amity Hills, OR Pinot Noir grapes into the press after their successful fermentation.
Your current role, and what does your day look like?
As a winemaker that also runs a tasting room- weekdays outside of harvest tend to be focused on checking on wine aging in barrel, researching new trends in the industry, selecting yeast strains for the next vintages, and blending or bottling up finished wine. Once harvest hits it early mornings and late nights, every possible minute is spent de-stemming, inoculating, punching down, monitoring, pressing, and racking when it's time. The weekends are a bit more tricky because we (the winemakers) also run the tasting rooms, trying to educate people about wine and being transparent about the process, all whilst providing a fun and unique customer service experience.
What inspired you to become a winemaker?
First of all, drinking wine definitely inspired me. When I'd be enjoying a Chassagne-Montrachet Chardonnay, a Sancerre, or a Margaux, Bordeaux, I'd always be wondering what the story of this year was. What fueled this winemaker's passion for this? Was this exactly how he/she wanted it to turn out? How did they do it? The second answer to that question is- being a cellar worker, staying up late and working hard on the process all through harvest; then getting to taste it later from barrel or bottle made me want to be able to tell that story myself.
What are some of the most important skills for a winemaker?
Passion, observation, organization, adaptability, eagerness to expand knowledge, strong work ethic, and experimental instincts. Matt, Mark & I have always dared to experiment, and it has constantly made us better at what we do.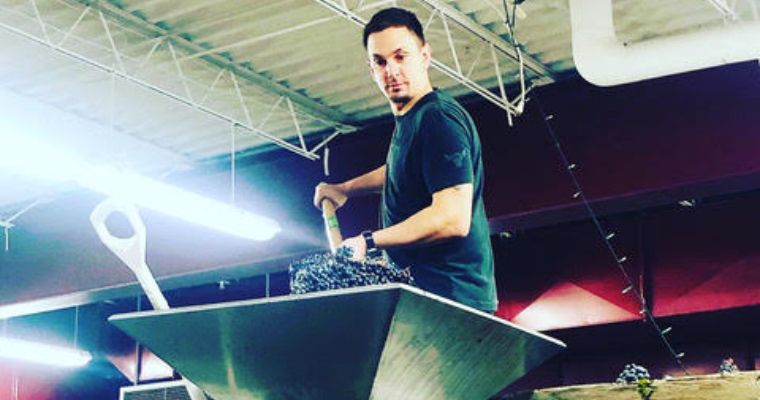 Image: Brian Crew destemming a batch of Carménère.
How do you think a winemaker can help drive marketing and sales personally?
I feel that the more people know about wine and winemaking, the more they will migrate to varietals, wineries, and regions they once may not have been interested in. Isn't that the mission? I believe we should all be a family regardless of our different styles and philosophies. I always recommend other wineries in my state and any other state to those interested.
Define a good winemaker
I'll start with this: Behind every great winemaker is a great vineyard team- we are unique in that we bring our grapes in from the west coast: Santa Maria Valley, Lake County, Lodi, Yakima Valley, Red Mountain, Horse Heaven Hills, Eola-Amity Hills, etc.- we have to trust that the growers we are working with are just as passionate as we are and want us to get the best grapes so that we can make the best wine to represent them also. After that, it is definitely important to know/understand the process, trust and motivate your team, and most importantly, put your passion into your product and share the story with your patrons. Winemakers are storytellers, whether it is from the taste of the wine, the label, or the actual way you describe the birthing of each wine.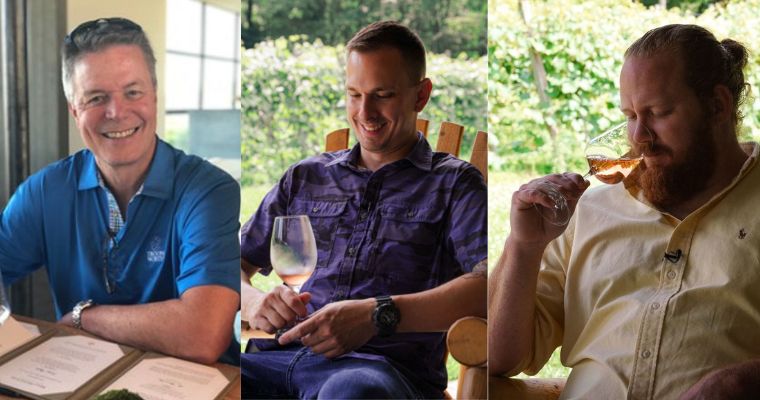 Image: Winemakers (left to right) Mark Pagliaro, Brian Crew, & Matt Check; Source: Cellar Beast Winehouse
What is the hardest part of a winemaker's job?
Adapting. Just when you think you have it all figured out, there is always a new obstacle you must navigate without harming the quality of your wine or your customer service standards.
What do you do when you are not working/making wine?
I write and record music, practice yoga, read about the paranormal, and recently started hosting a podcast.
What are the current challenges winemakers are facing, according to you?
I think identity is a hard part of being a winemaker- in the sense of trying to determine what your market is used to drinking/what will sell easily vs what you want to produce for the world and how to blend those together or plan for how to work around the obstacles. For example, in our region, sweet wine is much more prevalent, but we make French-inspired dry wines; it was quite risky, but I think we are making serious progress in showing the consumer that dry wine can be expressive while helping them to discover what actual tasting profile they like as opposed to sweet vs dry. Other than that, I would say shortages and shipping costs have made getting supplies harder and harder and more costly.
What skill or topic are you learning currently in wine and why?
I read every article I can and every book that comes my way about wine- but specifically, I've been pretty focused on reading more into individual clones/sources- trying to determine what'll help us more and more with getting that Old World style we are always chasing.
[[relatedPurchasesItems-41]]
What is your idea of a good life?
A life with wine, surrounded by genuine people that enjoy wine- sharing laughter, passion, and kindness, ideally near a mountain or beach (if I can be picky).
Who are your top 3 sommeliers whose work you admire?
Keith Wallace & Alana Zerbe of Wine School of Philadelphia- both of whom taught me so much in my sommelier journey & Brian Freedman- I've always enjoyed reading his informative wine publications, but I'll also put it out there that I need more sommeliers in my life- so reach out, let's connect!
Your favourite 2-3 wine books?
The obvious ones are The World Atlas of Wine (I think every winemaker I know has it) and the WInemaker's Answer Book (it has some great, random tips and facts!).
Header Image: Brian Crew, Winemaker at Cellar Beast Winehouse
2023 Submissions are closed. The Deadline for receiving samples in the warehouse is April 30, 2023.