Know Your Sommeliers: Fabrizio Canino, Sommelier at Gx Hospitality

24/10/2022 "Building trust is very important in the wine business," says Fabrizio Canino.
Fabrizio Canino came to London to reinvent himself from Calabria, Italy. He became a sommelier as it was easy for him to describe wines. According to him, understanding the customer is very important and to increase profits, one must always search for products that will perform as well as well-known brands while obviously being offered at a different price range.
Learn more about him and his journey in the space below.
Your current place of work.
Gx hospitality (the black book, Cabotte, Comptoir Mayfair, Blandford Comptoir, Old Brompton wine and cheese)
Tell us about yourself.
I'm from the south of Italy (Calabria) and came to London to reinvent myself, I came once to see the city and I fell in love with it and I decided to come back to stay, started from the bottom of the front of the house due to lack of language but I did all my steps to reach who I am today.
Why did you want to become a sommelier?
I became a sommelier cause I felt that I belonged to this "world" as it was easy for me to describe wines and suggest to my customer, obviously at the beginning it was just Italian wines that I was confident with but then I had to put the head into books and understand the rest of the vast world of wines.
What do I look for in a new brand before taking it into my restaurant?
Nowadays every day something new came up and we need to keep up with new products, my view on that is the fact that the product has to be quality/value, sometimes the quality is there the cost is absurd which it makes a challenge to sell it, so for me, a new brand needs to be accessible to anyone meaning that all our customers that don't want to leave the "comfort zone" will appreciate trying something new as they trust us without breaking the bank.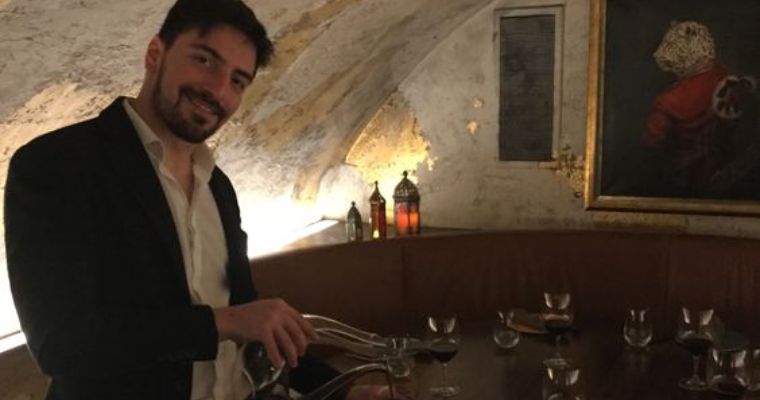 What sources do you follow to stay on top of industry trends and new launches worldwide?
We are really lucky in London to have many opportunities to be in touch with makers, producers, and owners and that for me makes a lot of difference.
My best sources are the masterclass always available for sommeliers, the continuous wine tasting from suppliers, the big portfolio tasting of each of them and the little one focused on a specific style/vintage/region that allows you to ask the right person about that wine. That forms a better way of understanding the vintage, area, and style of specific wine making a big map of events in my mind for that specific year.
Questions you would ask a customer who doesn't know anything about wine?
I always try to understand the level of knowledge of my customers to make sure I'll deliver the best experience ever for them.
The "by the glass'' selection helps a lot to understand their palate, few little tastes can tell what they like or not, making a wine profile that will suit them.
I will then give a little guidance for the next time they will need to order a bottle of wine.
What are some of the most important skills for a sommelier?
The most important skill is to be humble, we can't judge, and we don't pay for their wine, therefore we need to give the same beautiful service even if it is ordering the house wine, cause there's no customer A and customer B. Understanding your customer is really important, and building trust is a key point in this "business", once they trust you, you can then play around your wine list, giving them something new to try and that's a beautiful part of it.
How would I train my new staff members in their first 7 days of them joining?
Today having 7 days of training will be phenomenal but we don't have that much time, in an ideal world I would definitely structure nice and smoothly.
Selection of by the glass with tastings
House bubbles and how they are made by tasting them again
The sequence of service is crucial
Decanting a wine why and how plus glassware
How wine is made (white, red, rose)
Guidance of the main list, how is structured and differences
For me, every day of training needs to end with a tasting cause it will be the most permanent thing in their mind and that's what it will be delivered on the table, that feeling, that sensation, that flavour will be literally translated to our customers.
What methods do you use to grow wine sales? Please explain with examples.
Wine sales are a big topic due to the markup that we have in London but there's always a way, I remember I did an "experiment" in 2016 in the month of November/December with my waiters, they would ask when approached the table if they want it still, sparkling or a glass of champagne, the sales of champagne by the glass was increased of 38% I still remember that percentage. Tricky but efficient if done in a good way.
What methods do you use to grow profits?
Well to grow profit we need to look continuously at products that will perform as good as known names and obviously on a different price point. By doing that you can easily sell an alternative that can be accessible to your customers but at the same time you can deliver the same characteristics for a cheaper price.
How do you self-learn and improve your skills?
I love talking about wines with people and watching professionals doing so and by doing that even my vocabulary of notes has a really good level. Watching professionals tasting blind or simply specific topics gives me a way to learn remotely.
What's the best part of your job?
It makes people happy. That's the best part of it.
The trust and fun that we created around the customers are priceless.
How do you elevate the guest experience? Please give 4-5 examples and insights here.
Guest experience is the cost of our job and to do so I believe experience pays a little off, you need to know your clientele and you need to be ready for a different one, cause not all of them want the same type of experience. I don't believe that talking about the wine in a really professional way makes the experience better, I'm more about guidelines on how the wine is made and what they will expect in their glass, using more friendly words and making it a bit as entertainment.
Examples honestly I don't have or I don't recall one because I do like to play a lot with my customers and I never had a complaint about it, playing means letting them be part of it, making the choice for them and then letting feel like they did guide you to that choice, a brand new connoisseur, which in a way is part of the game.
Your favourite TV show right now?
Big Marvel Fan.
An unforgettable wine experience for you - tell us the whole story!
Every time I visit a vineyard is the best day of my life.
Your favourite restaurant in London right now?
My kitchen is my favourite restaurant in London. I love to cook and pair wines with it. Honestly, I choose my wine first and then I cook around it.
Any favourite food and wine pairing suggestions for London drinks enthusiasts?
Your favourite food with your favourite wine never will disappoint you. Nowadays with this sharing concept, it is really hard to please everybody with one bottle of wine and different types of food, so for me, it is easy to choose the wine and then choose your food and remember some reds can even be drunk, chilled.
[[relatedPurchasesItems-41]]
Your favourite book?
Jules Verne's 20000 leagues under the sea.
Name 3 sommeliers in the UK you like.
Honestly, I work for one of the best sommeliers ever in the UK, Xavier Rousset, that's for me already a big challenge but so far so good. Another one is my mentor Jacques Savary de Beauregard.
What's your personal career goal? And how are you investing or planning to get there?
My personal goal is to one day become a wine buyer for a big company. I'm planning to study as much as I can and create a huge web of connections that could potentially guide me in the right direction.
Give us one good story that you remember of a customer and you.
I've got many customers that became friends and for some of them, I actually design a wine menu for their wedding, if that is not trusted.
Header Image: Fabrizio Canino
2023 Submissions are closed. The Deadline for receiving samples in the warehouse is April 30, 2023.