In Conversation with Chicago's Leading Sommelier: Jon McDaniel

16/08/2023 His passion for the wine industry reflects in the beverage programs he creates for his company Second City Soil
Jon McDaniel is the owner of Chicago-based Second City Soil and one of the country's most awarded sommeliers. He works with over 14 restaurants around the Chicagoland area on wine list development, training and sales and is usually at one of his clients before 8:00 am! Tasting over 300 wines a week for his business, Jon's palate and passion can be seen in not only in the wine lists he creates but in his interactions with his clients and wine sales strategies.
In an exclusive Q&A with Sommeliers Choice Awards, Jon McDaniel speaks about his passion for wine, wine trends, wine buying and much more.
What really drives you when it comes to wine?
I have been in the business for 15 years now and where most people get hooked on the romance of thinking they can taste wine all day, I am really driven by the business of wine, how to maximize success for my restaurants, my brands. I am driven by the value in wine – to be able to bring a wine to a guest that tastes like $100 and is $60 – that is a pretty special moment because most guests think that a sommelier is just there to gouge them.
What food and wine trends are you seeing at the moment?
After so much experimentation in molecular gastronomy, natural wines, obscure things from obscure places, the biggest trend I am seeing that is very exciting is the "Where it grows it goes" movement. Having a great regional Italian restaurant that also focuses on the wines of the region. Seeing different cuisines and beverages that mirror each other based on the place they are coming from – not just because it's "cool".
What you look for when you plan to buy wine for your business?
When I am buying wine for my restaurants or brands that I represent, I am looking for the "Second Glass test". Can I see my guest wanting a second glass of this wine, can I see a second bottle go down on the table because it is just that delicious? There are some wines that are beautifully made, enjoyable, ethereal and analytical – but at the end of the day, my guests just don't want more than a glass. As a sommelier, I want my guests to enjoy wine so much, that they can't help themselves but to want more of it – that is the true setting I am trying to build for my wines.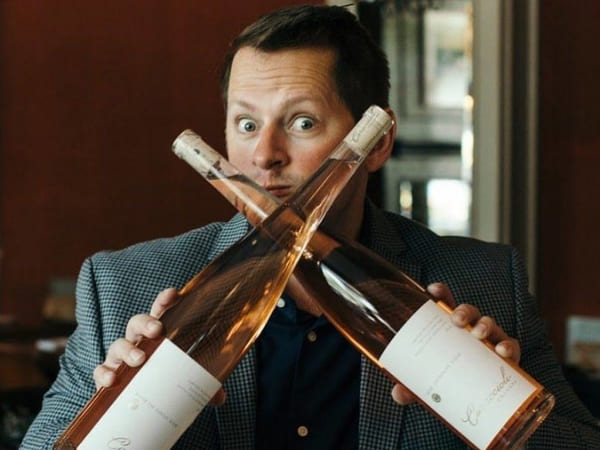 What are some challenges you face as a sommelier?
The biggest challenge for me as a sommelier, that I think a lot of my peers can relate to at this point in their careers is time. As restaurants continue to try to create margins and profit where they can, having a strict wine professional is fewer and farther between these days. I am constantly trying to find the time to develop my wine lists, to analyze the numbers to see if my guests are ordering – if my markups are correct. There just isn't enough time to do all of that and work a daily schedule. The other challenge is that there are just too many wines out there, too many distributors, too many decisions to make. If I want to put on a Pinot Grigio by the glass, there are no less than 100 options from 45 distributors, all within $1-2 of each other. I have to limit the number of people that I am working with, just so I don't have to manage their expectations of getting business because one placement from a distributor only gives them hope for 5 placements.
What do you think is the most important element of a good wine list?
A good wine list has to match the concept. It has to be an ingredient to highlight the food and the goal of what the restaurant is about. If you have a neighbourhood pizza restaurant, having 9 Barolos on the list makes no sense. So, having wines that are about what the guest will be interested in, not just stuff that the sommelier thinks is cool and they like to drink. A good wine list also has to provide value. Value can mean a lot of different things, but you have to allow your guests to be able to find wines that fit their budget and fit their night. Even for me when I go out to a restaurant, a good wine list to me sometimes is going to have that $45 bottle of Montepulciano because that's the kind of night I want to have. Your wine list has to provide options and situations for enjoyment no matter why your guests are visiting your restaurant.
How has the role of the sommelier evolved in the last 20years?
The change of the sommelier has been huge over the last 20 years. First, the guest is more intelligent about wine now more than ever. Guests are travelling more, tasting more, buying more and reading more about wine than ever before. Wine apps are giving the guest the power to really see if the sommelier is good or not. The sommelier is more important in a restaurant though now because the ability for a sommelier to bring in revenue to their restaurant is more crucial now. A sommelier that curates a great wine list, can work the floor and train their staff can really make a restaurant successful. A sommelier is also not just a sommelier anymore. Today, operators are making Sommers that is a hybrid of a sommelier and floor manager. 20 years ago, a sommelier would never have to fire a busser, but today that is the reality of the role – you can't just sell wine on the floor and think your job is secure anymore. A sommelier today has to be knowledgeable about wine, about business and be able to be their own best marketer for their own brand and be able to share that tableside.
Which varietals or countries are in demand these days for your business?
Rosé is still a huge category for our business as it is a great wine for non-wine drinkers to get into the category. California is still king, but guests seem to be more open to trying something new within those areas. Argentina is still big due to how great the value of Malbec is, but guests are starting to look more towards the great red blends coming from South America. Super Tuscans are still quite popular as they bring the balance of old-world style and new world concentration together. Also, guests are still drinking New Zealand Sauvignon Blanc as they invented it – still a very in-demand category.
Describe your experience interacting with customers on a daily basis.
As a consultant that has left the floor on a daily basis, my interaction with the customer comes from my interaction with my service staff. The concepts that I consult for are casual, that doesn't need nor want a sommelier, but just a staff that can help answer questions. So, my interaction with the staff, my passion for wine and the business come through how I curate and write the wine list – adding little tasting notes to give my viewpoint on the wine, paint the picture. It's hugely important for me though to give my staff confidence and humility when it comes to the wine program and interacting with the guests. My staff has to be able to not only know the wine list, which is all about training, but they have to still be warm, friendly, help the guest navigate the list in a way where they want to continue learning about wine. My customers continue to come back because they feel they are in a safe and supportive environment to their own wine education and enjoyment.
How you define a good sommelier?
A good sommelier is a steward of stories. They are the ones that translate the passion of vineyard workers, winemakers, farmers from across the world in a wine that excites the guest into a new discovery. A good sommelier doesn't screw up chef's food with their wine selections, a great sommelier makes the food that much better by highlighting the quality of ingredients and how the wine enhances those flavours. A good sommelier is a best-dressed busser in the room, they are the Maître D, they are that energetic, hospitable character that you want to talk to about wine or about anything because they are disarming, not pretentious and condescending. A good sommelier, whether they are still working the floor or helping to support wine brands are always looking for what the guest in front of them is going to enjoy, not pushing a personal agenda to enhance their own ego. A good sommelier knows that they still have a long way to go to be a great one – if that is ever something to achieve!
What does your typical day really look like?
Typical for me doesn't really exist. I started my own wine consulting company in May of 2018 and every day has been different. I travel about 30% of the time to my different winery and importer clients around the world, I am in one of the 14 restaurants that I consult for training my staff on wine, on salesmanship, on food and pairings. Every day for me presents new opportunities and challenges to meet my mission statement of growing and helping support the culture of wine in the City of Chicago. What I have realized is that there are very few people in our industry that have the career that I have because my goal is to connect sommeliers with wineries, to help promote brands by making their presence in Chicago more robust and efficient and also to make the restaurants I work with more successful in selling wine and making wine a part of their business model and invest in the staff and the guest when talking and promoting wine. I have not had one day that has been the same as the last, which is why I know is this type of wine professional, this type of sommelier is truly making a great impact on the success of wine here in the Second City.
Get Feedback From On-Premise Buyers, Wine Directors, and Master Sommeliers. Enter Your Wines Before January 31, 2024, To Save.