Francesco Di Fonzo believes that most essential factors are the wine's quality, history & pricing.

03/11/2022 Know your Sommeliers: Francesco Di Fonzo, Assistant Head Sommelier at Berners Tavern
Francesco Di Fonzo originally comes from a town called Pollutri, Italy. After graduating in Economics and Management in 2014, he started working as a Sommelier for events. Francesco had an opportunity of working for Matteo Montone MS at Berners Tavern who mentored him about 5 stars services and international wine.
Learn more about him and his journey in the wine space below.
Your current place of work.
I am the Assistant Head Sommelier at Berners Tavern within The London Edition Hotel in central London.
Tell us about yourself.
I am originally from a small town called Pollutri in the region of Abruzzo in Italy. After I graduated in Economics and Management in 2014, I started to work for Fiat. Whilst working for Fiat I also worked as a Sommelier for events. Moving to London was always a goal of mine and once I made the move I started to work as a Sommelier at Mercato Metropolitano. Afterward, I had an amazing opportunity, working for Matteo Montone MS at Berners Tavern (within The London Edition Hotel), who taught me the foundation of 5 stars service and international wine.
Why did you want to become a sommelier?
I come from a family where the tradition of wine is important. My grandfather has made wine since I remember, he involved me in every aspect of the wine-making process, especially the harvesting time. Today my father continues to look after our vines and produces our wine whilst being a member of a winery in Abruzzo. Wine has always been a part of my childhood and will always be a passion of mine. In order to develop my wine knowledge, I moved to London to kick-start my career in the international wine industry.
What do I look for in a new brand before taking it to my restaurant?
I always look for quality wine, possibly with a nice label and bottle. It's an incentive if there is a story behind the making of the wine in order to help to sell it. Of course, I need to see if the style of the wine fits well with the restaurant's cuisine, and at the end, I'll look for the cost price in order to maximise my profit.
What sources do you follow to stay on top of industry trends and new launches worldwide?
I follow lots of different Sommeliers and wine pages on Instagram plus I usually read Decanter, Noble Rot, and The World of Fine Wine magazines.
[[relatedPurchasesItems-41]]
Questions you would ask a customer who doesn't know anything about wine?
In order to make the customer comfortable these are some of the questions that I usually ask:
Would you like to start with a refreshing glass of sparkling wine?
What would you like to drink tonight, white, or red?
What do you usually drink?
Would you like to drink a light, medium, or full-bodied wine?
Would you like to try something new?
Through these questions, I can understand the type of wine that the customer is wanting.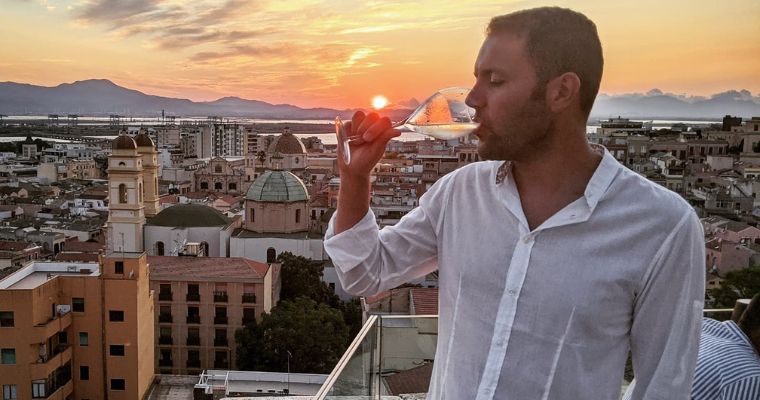 Image: Francesco Di Fonzo; Source: Instagram
What are some of the most important skills for a sommelier?
The most important skills are being able to make connections with new people easily, having a natural flair for selling, being charismatic, positive attitude, and having a passion for studying in order to continue growing your wine knowledge.
How I would train my new staff members in their first 7 days of them joining.
Two Junior Sommeliers recently started with us, and during the first few days, I started to train them on wines by the glass and pairings, focusing on what makes five-star service.
What methods do you use to grow wine sales? Please explain with examples.
To grow wine sales, we provide full wine training to the whole front-of-house team.
Giuseppe and I run the WSET courses at The London Edition and we provide three different levels.
They need to have a foundation where they know the basic wine terms, wine pairings, and the winemakers of your wine collection, as this will help them to provide better customer service. Even with a big wine team as we have at The London Edition, it is key to have all your staff educated and trained in the wine business to increase your wine sales. They need to know all the wines by the glass, some of the most common grape varieties, and wine pairings.
What methods do you use to grow profits?
It is beneficial to have a close relationship with the suppliers/producers and work with them on the price points and discounts they are able to offer on single bottles. We are also interested in any possible partnerships for selling wine by the glass, and what sort of retros we could expect for selling a certain amount.
Also, we are very active on the marketing side. Our social page "The London Edition" is full of food, cocktails, and wine content. We work closely with producers, and on a monthly basis, we run wine masterclasses with them, where we explain terroir, region, and international grape varieties.
How do you self-learn and improve your skills?
I train with my Head Sommelier Giuseppe D'Aniello, and we both do weekly blind tastings, written tests, etc. At the moment I am studying for WSET level 4, I am reading every day about wines in different books and magazines, plus I use social media to check the new trends.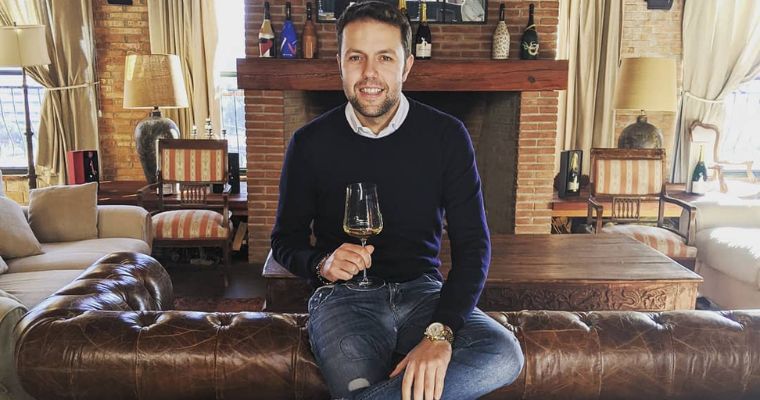 Image: Francesco Di Fonzo; Source: Instagram
What's the best part of your job?
There are lots of things that I love about my job. Firstly, I love to meet different people every day listening to lots of different stories. It is great when the guests are happy drinking good wine, and when they return to the restaurant because of the great service they received. Every day I get to try a new wine, and I'm very lucky that I have the opportunity to attend wine trips in other countries. I am also proud to work with fantastic colleagues, but I would say that the best part is doing a job that I love in an exciting city like London.
How do you elevate the guest experience? Please give 4-5 examples and insights here.
Well, I always try to remember their preferences, birthday, anniversaries, etc. so we can surprise the guest with a card, a glass of champagne, or a dessert to make them feel special. At The London Edition, we truly pay attention to details. It is also important to understand if the guest wants privacy or whether they are happy to chat with you in order to personalise the service.
Your favourite TV show right now?
During the lockdown, I really enjoyed Suits, Vikings, and Money Heist. At the moment, I'm watching How To Get Away With Murder.
An unforgettable wine experience for you - tell us the whole story!
Earlier this year, I was invited to visit the Gaja winery in Tuscany. It was a three-day trip with a packed agenda. I visited the winery and vineyards in Montalcino and Bolgheri, where I tasted all their amazing wines and different vintages. Also, during the trip, I met the Gaja family, and I had the opportunity to ask questions directly to Angelo Gaja. He spoke about the history of Gaja, and the evolution of Italian wines over the years. I think it's important to understand the story behind how a wine is produced and where it comes from so that when I'm recommending the wine to the guest, I can explain and elaborate even better. I felt very privileged to be invited and it was an experience I will never forget!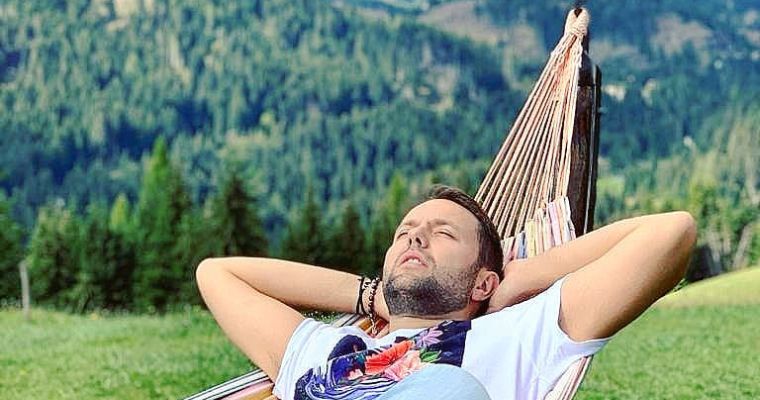 Image: Francesco Di Fonzo; Source: Instagram
What is the biggest faux pas that customers tend to make when ordering and drinking wine?
One faux pas which is very common across the world is when people have finished their bottle of wine and they turn it upside down in the ice bucket. I would rather they just leave the empty bottle beside the ice bucket instead.
Your favourite restaurant in London right now?
My favourite restaurants are Black Book, Noble Rot, Ten Cases, and Bocca di lupo. In the future, I want to visit Angelina, IT, 1890 Gordon Ramsay, and the Connaught bar, but I also love to cook at home and share a beautiful bottle of wine with my friends.
Any favourite food and wine pairing suggestions for London drinks enthusiasts?
I think that orange wines are so versatile that they can be paired with many different types of foods. I have been pairing orange wines with fried chicken, aged hard cheeses, and oven-baked salmon.
Your favourite book?
My favourite book is the World Atlas of Wine. At the moment I am really enjoying reading about the wine business from my WSET level 4 studies.
Name 3 sommeliers in the UK you like.
Of course, one of my favourite Sommeliers is Matteo Montone MS who taught me a lot about wine and saw the potential in me. I look up to Kathrine Larsen MS, and I am enjoying working with Giuseppe D'Aniello who is very important to me and is helping me to progress further with my knowledge.
What's your personal career goal? And how are you investing or planning to get there?
I like to set my goals after I finish one but I have to admit that in London there are endless opportunities, so my goals are to become a better manager, to keep studying, and to finish WSET level 4. Next year I want to start studying for the Advanced Court of Masters. I strongly believe that qualifications and hard work will always pay off in the long term.
Give us one good story that you remember of a customer and you.
There are so many new stories every day, but if I had to pick one, it would be a story about an Australian businessman. He was an in-house guest, and our relationship started because we both love Brunello di Montalcino, so I started recommending our Brunello by the glass to him. Now, he loves to drink Biondi Santi, which he decided to visit to see the winery for himself. Every time he comes back, he wants to try a new vintage or a better wine, and I must admit that is very hard because I always want to go above and beyond his expectations. We have become friends, and when he knows when he'll be visiting London again, we chat via WhatsApp so I am ready for his visit.
Header Image: Francesco Di Fonzo; Source: Instagram
2023 Submissions are closed. The Deadline for receiving samples in the warehouse is April 30, 2023.