Supply Chain Goes Digital In The Wine Industry!

24/01/2022 Wine companies across the globe are looking for digital supply chain solutions and here's what these companies are offering.
The pandemic had a huge impact on the supply chain of wineries and wine brands around the world. Many reported a shortage of production and packaging materials while at the same time, several experienced logistic headaches as they were busy working on securing their resources to transport their wine to consumers. Most of the supply chain issues were a cause of the pandemic and led to an increase in investments for supply chain innovations by companies to tackle these problems. You can read more about the supply chain issues faced by the wine industry here.
The globalization of the economy has opened numerous pathways for commerce and triggered a logistical revolution which led to enormous technological innovations. Blockchain technology and the Internet of Things (IoT) are proving to be game-changers for wineries that are looking for digital supply chain solutions to tackle supply chain problems, thrive in a post-disruption business environment, and at the same time become customer-centric.
Blockchain is a technology that provides solutions for transactions and its use is seen to be increasing in the beverage industry. It is an alternative to banking systems and makes all transactions publicly traceable. This improves billing transparency, enhances the capital flow, and ensures security. It will allow wine producers and consumers to track important parameters throughout the life of wine in real-time. While the Internet of Things (IoT) is associated with the working of blockchain technology. It enables the use of RFID-tagged (radio-frequency identification) items to be interconnected that helps in providing valuable data. The QR code on the wine label is a great example.
With supply chains going digital and technology taking over the wine industry, it has become essential for wineries to resort to technological solutions to manage their data, ensure security, and at the same time increase sales. Several companies in the market are offering digital solutions to wineries to manage their supply chain, data, and a lot more. Here are a few of them.
WineDirect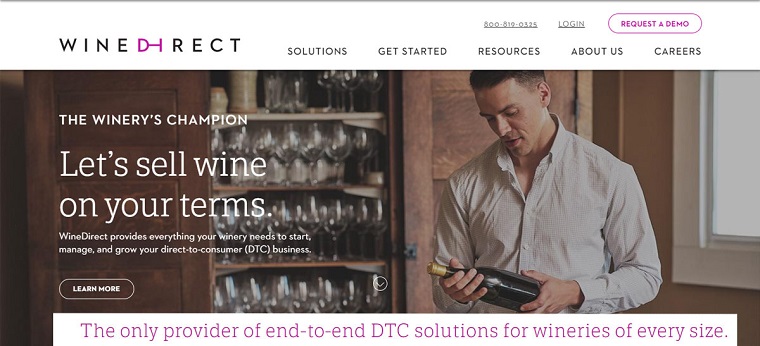 WineDirect - A DTC Winery Software. Image Source: WineDirect
WineDirect is a provider of end-to-end DTC (Direct to Consumer) solutions for wineries of every size. Their focus is to help the winery to sell directly to their consumers in ways that work best for them. From e-commerce to fulfillment solutions, they also provide educational materials in terms of data and insights which is directed towards their growth. Some of the key deliverables they focus on are:
1. Providing end-to-end solutions that are integrated with e-commerce platforms in the wine industry.
2. A team that helps wine brands to build and deploy their DTC sales strategy.
3. Helps you reach out to new customers, engage with current ones and guide you in building a smart DTC strategy through on-point service and delivery.
"We see our customers as partners and that is the most successful way of running a business. When WineDirect's customers are successful so is WineDirect." - Joe Waechter, President & CEO, WineDirect
Wenda - Beverage Integrity Tracking
An Italian startup company, Wenda pursues innovation with particular attention to sustainability in the Food & Beverage chain. It has come up with different solutions for the various issues that have been detected in the wine supply chain. They have created IoT and Big Data Analytics services by analyzing the needs of several stakeholders in the wine industry. The company's information management hub is mainly focused on finding the hazard points along the supply chain and optimizing them to take the best care of the product through integrity alarms which can control everything from one single point.
Beverage Integrity Tracking offers benefits for the wine and beer sector by offering an integrated system to monitor the entire wine and beverage distribution channel to achieve end-to-end visibility of temperature data and traceability. This is done through a mobile app which helps in establishing a direct relationship between the producer and retailer. Wenda focuses on offering the following solutions to the producers and retailers:
1. Wineries will be able to optimize future deliveries and market an almost perfect wine by building up experience on transportation conditions.
2. Retailers will be able to report any non-compliance of the received goods and send first-hand feedbacks to the producers through this system.
3. A general database consisting of frequent issues in wine and beer shipping will be combined from the assemblage of data from all the wineries using this system. This would be open to insurance companies through a license so that they can propose IoT-based insurance policies to the wine and beverage sector.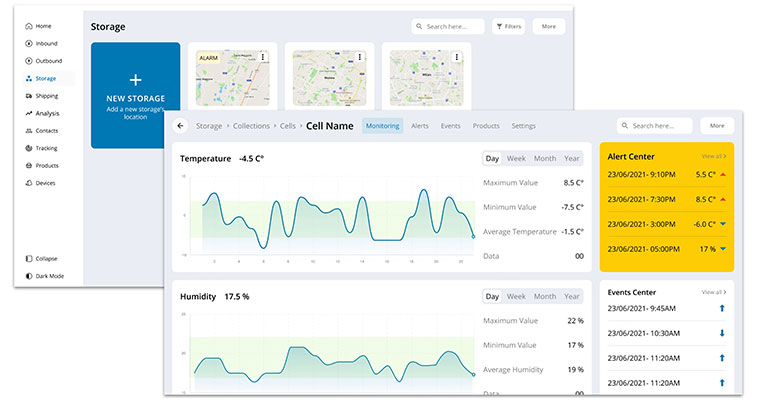 Wenda's Data Management Hub. Image Source: Wenda
VineSpring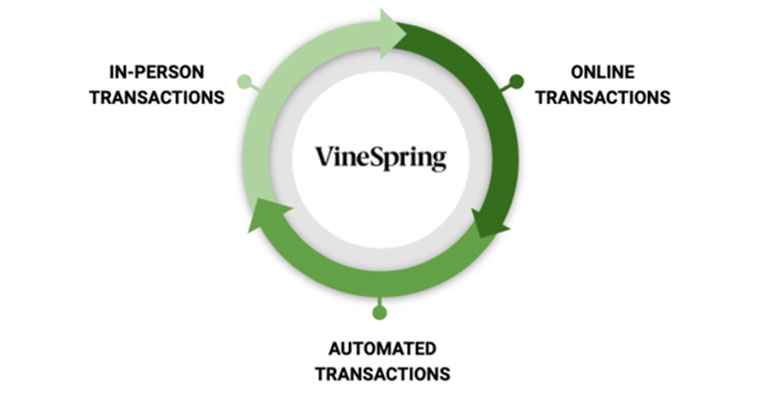 VineSpring is an online platform that allows wineries, breweries, and distilleries to easily manage clubs, accept online orders and capture in-person payments. It supports the entire customer experience with APIs (Application Programming Integration) to connect to the systems used by wineries such as MailChimp, ShipCompliant, etc. Some of the benefits offered by VineSpring are:
1. Member-focused commerce by crafting membership programs around strong communities that support a loyal and engaged customer base.
2. Manage subscription-based offerings by creating a multi-tier allocation for the most exclusive products, building custom club options for your specific customers, and a lot more to make your recurring revenue model lucrative.
3. Seamless third-party connectivity through a robust partner network that connects the industry-leading product to the VineSpring experience. It allows you to integrate third-party providers such as MailChimp, Salesforce, WordPress, etc. directly with their API.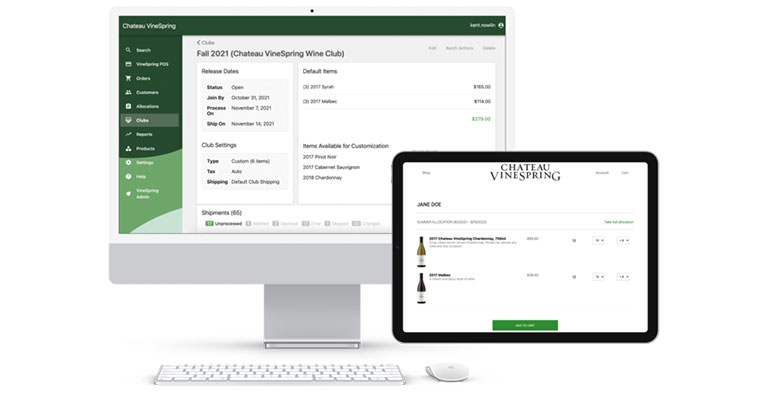 Personalized Wine Platform for a Chateau developed by VineSpring. Image Source: VineSpring
VinBalance
VinBalance is a complete winery management software. It handles the complete business cycle of a winery from comprehensive accounts receivable and payable, inventory, distribution, tax reporting to wine club features, and a lot more. This brings all the winery records into a controlled and accurate system. Some of the benefits VinBalance offers to their clients are:
1. Connects the wine club and tasting room POS with the general ledger and inventory that helps wineries in selling their products smoothly. It helps in eliminating the need for separate software and integrates your business systems with the rest of your numbers.
2. Fully monitors the winery production by reporting inventory and in-process production costs with automatic links. It keeps complete and compliant records of every operation which enables the winery owner to know the exact costs.
3. Offers a complete Enterprise Resource Planning (ERP) system which allows the wineries to strategically plan their resources and know their costing.
VinNOW
VinNOW offers integrated winery software solutions to wineries by designing specific software for them. Designed by a winery for wineries, it is focused on managing customer data, purchase histories, tasting room and web sales, and wine clubs with automated credit card processing. It can be configured to operate in a multi-location environment by providing a comprehensive software application that can provide live customer service and support. A few important benefits offered by VinNOW to wineries are:
1. Integrates your Point of Sales (POS) which offers a complete and visible customer record, shipping prices, and a lot more.
2. Seamlessly and securely receives payments for your wine clubs by accepting credit cards through the latest technology with point-to-point encryption.
3. An integrated shopping cart allows you to import orders automatically by creating new customer records.
4. Inventory tracker allows you to track inventory and where your wine is being stored.
5. View complete customer purchase history with the option of entering comprehensive notes for the cashier to see.
6. Integration of UPS, FedEx, and GLS shipping allows wineries to track hold of the pick-up orders and follow up on customer invoices.
7. Generates automated reports of accounting, customers, wine clubs, inventory, and more to be automatically sent to users.
VinNOW POS Software. Image Source: Capterra
Blackboxx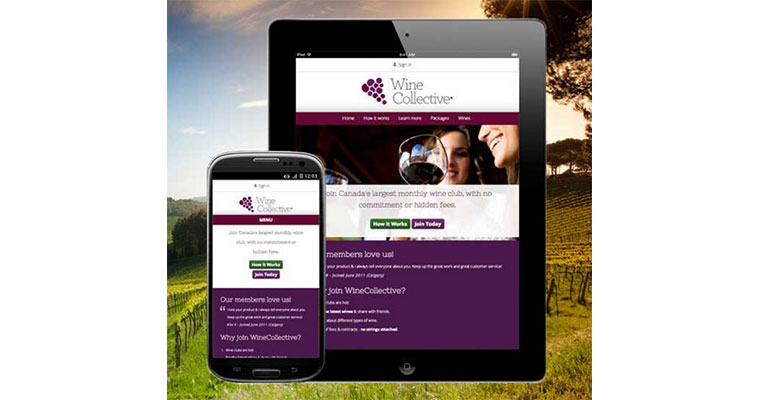 Cloud Platform for a winery made by Blackboxx. Image Source: Capterra
Blackboxx is a global DTC platform for wine and beer brands. It is a turn-key e-commerce platform specifically designed to tackle the challenges of selling alcohol globally. It provides all the required tools that help your brand to sell to new and existing customers. Some of the benefits provided by Blackboxx to wine and beer brands are:
1. Enables you to sell your product easily by allowing customers to shop the entire line-up up of products one at a time or as pre-made packages. It includes one-time custom orders, recurring club subscriptions, event ticket sales, and email lead generation.
2. Keeps a track of your customer data including their preferences, purchases, and even cellar door visits. It helps your brand to provide exceptional experiences to your customer and know them better.
3. Offers the fastest experience through Cloud technology with a focus on providing credit card security and data integrity.
4. Integrated with the best technologies in the marketplace to offer premium DTC solutions.
5. Allows you to customize the experience you offer to your customers by leveraging themes and building tailor-made experiences specifically for your brands.
Article by Shreya Kohli, Beverage Trade Network
Header Image Source: Wine label with QR code. Cantine Barbera
Get your wines in front of Sommeliers, Wine Directors and On-Premise Buyers of USA. Here's How To Enter your wines.