Natural Wine Movement - Bringing You Closer To Nature Through Wines

28/01/2022 The Natural Wine Movement is shaking up things in the U.S. wine industry and it seems it's here to stay with its production and consumption increasing every day. We are recommending some of the best Natural Wines for you to try.
Natural Wines is one big controversy that many wine producers across the globe are talking about and the chatter about it gets louder and louder. Many sommeliers and winemakers may disagree that Natural Wines have already started a movement but that is not the case with retailers and owners of wine stores across the US. Before we delve more into the natural wine movement, it is essential to understand what is organic, biodynamic, and natural wine. As the name explains itself, Organic Wines are wines that are made in accordance with organic farming. The grapes for these wines are grown without the involvement of any artificial or chemical herbicides, pesticides, or fungicides and the whole winemaking process does not involve any human intervention. Biodynamic Wines embody organic farming as well as an approach to winemaking that views the vineyard as an ecosystem and earth as a living organism. It eradicates the use of chemicals and uses natural material, composts as well as a lunar calendar for planting, pruning, and harvesting. Wineries have the opportunity to either practice or be certified as Organic or Biodynamic.
[[relatedPurchasesItems-32]]
On the other hand, Natural Wine is more of a concept than a category that has some agreed-upon characteristics. Having no legal definition, these wines follow organic or/and biodynamic methods, ensure that there is minimal intervention in the vineyard and cellar, and only use naturally occurring yeast. Technically, natural wine has been around for thousands of years but has not been recognized as an actual category. For this reason, France's National Institute of Origin and Quality (INAO) is making sincere efforts to turn "natural wine" into a regulated category that can be potentially verified by a third party and can be used on labels just like "organic" and "biodynamic". Even though natural wines account for a lesser percentage of sales, this trend is seen to be growing in many countries. Due to its organic, small-scale, and primary nature of natural winemaking, each producer is only able to produce a limited number of bottles.
The natural wine movement began in the 1970s in Beaujolais, France when a Gang of Four people including Marcel Lapierre, Guy Breton, Jean-Paul Thévenet, and Jean Foillard, got inspired by Jules Chauvet, a winemaker, and chemist. These four people began producing wine by terminating the use of herbicides, pesticides, and fungicides in the vineyards and using grapes that were grown on older vines, harvested later to have longer hang time giving them a riper fruit. With absolutely minimum use of sulfur dioxide, the grapes were very carefully sorted before pressing and excluded the addition of sugar to ferment the juice to increase sweetness or alcohol levels. Later, it became a natural evolution towards greater transparency and environmental responsibility in what winemakers were producing. The movement started spreading across Denmark, London, Spain and finally gained global recognition when a Loire Valley natural wine for eight euros was featured as a pairing at Noma in Copenhagen which is World's No. 1 Restaurant.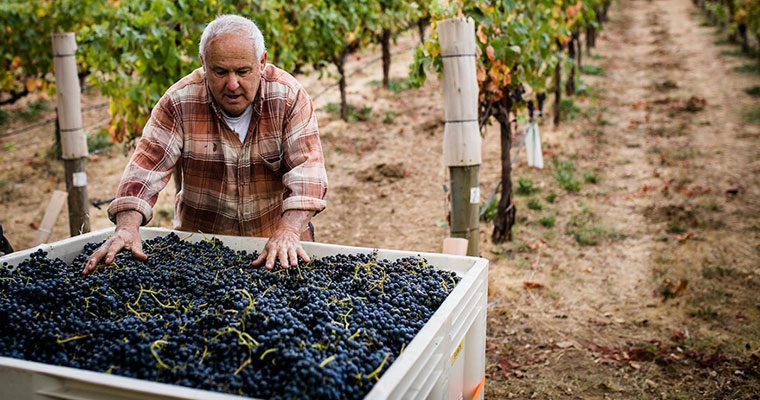 Image Source - Harvest at Castelli-Knight Ranch at Pax Wines
As the demand for natural wine keeps increasing, a large number of producers across the US are adopting organic and biodynamic practices in their vineyards and cellars to move towards a sustainable future. According to Insight Partners, the organic wine market was valued at US$7,460.29 million in 2019 and is projected to reach US$16,647.81 million by 2027. However, what's interesting and strange is that many natural winemakers are decisively against the idea of a natural wine label and are even protective of somewhat the exclusive culture around the wine they make.
"I should note that the term "Natural Wine" is the current term used by the market, meaning buyers are choosing to use this term. There wasn't any term when I started my wine project, so I chose Old World as a way to explain that my ancestors brought the winemaking method used for centuries from Italy and this method predated any technology of additives in wine." - Darek Trowbridge, Winemaker & Proprietor of Old World Winery in Russian River Valley, California
As we saw the increasing demand for natural wine, we curated a list of some of the interesting natural wines in the market today that you must try!
Martha Stoumen Honeymoon 2019
Growing grapes and crafting natural wines in Northern California, Martha Stoumen is a first-generation winemaker who makes wines from unexpected varietals and offers a new take on Californian classics. The Honeymoon 2019 is a great blend of Colombard and Chardonnay from the Napa Valley, this wine has aromas of wildflower honey and alpine herbs, alongside hints of hazelnut and golden apple skin. With bright acidity and rounded texture, it has a slightly bitter finish that is perfectly balanced by a honeyed core.
Margins Santa Cruz Mountains Pinot Noir 2020
Margins Wine produces low-intervention wines using grapes from underrepresented regions, vineyards, and varietals. They are part of the growing movement in California to make wines from vineyards that are farmed organically or are in organic conversion using minimal additives during the winemaking process. The Santa Cruz Mountains Pinot Noir is a 100% Pinot Noir made with destemmed grapes, fermented on the skin for one week, and aged in neutral oak barrels for 16.5 months. The wine has stunning notes of black plum, bramble, and black cherry with some nice reduction on the nose.

Old World Winery 2014 Flow
Old World Winery is a small, family-owned, and operated winery. They use grapes from their 100 years old, sustainable, and organic vineyards. They create 'natural wines' that reflect their family history and traditional winemaking (old world) practices in Sonoma County in California. The 2014 Flow is a 100% Syrah from the Bellinger Vineyard in Fountaingrove District. It has beautiful aromas of black cherry, blackberry, and plum with hints of toasted oak and herbal qualities. It has soft silky tannins that come to a fruity finish closing.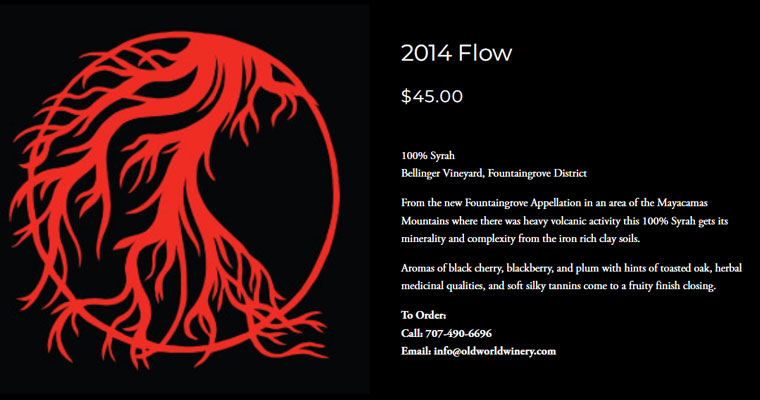 Coturri Albarello Red 2019
Founded by Harry "Red: Coturri and his sons in 1979, Coturri is known to be the granddad of natural wines in Northern California. To craft their wines, everything starts and ends with organic, dry-farmed, estate-grown grapes and biodynamically grown fruit from their other local vineyards. They add indigenous yeast, never filter their wines and never use sulfites. The 2018 Albarello Red is a blend of Carignan, Zinfandel, and Barbera and is drenched in cherry-cola and berry aromas with notes of earthy flint and slate.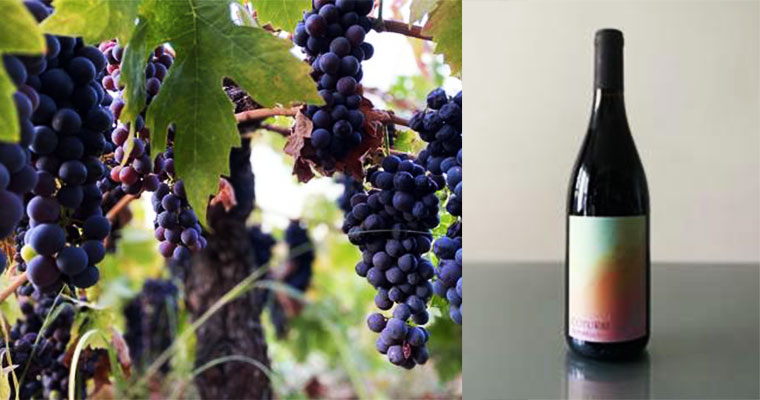 Horse & Plow Grenache Napa Valley 2017
Horse & Plow is a small, family-run winery based in Sebastopol, California in the heart of the Russian River Valley. They produce high-quality fruit and make unique and delicious wine and cider. They also source grapes from their neighbor vineyards in Mendocino and Napa counties. The winery utilizes organic farming methods, small-lot fermentation, and traditional techniques with no synthetic nutrients or additions. Their wines are vegan and contain very low amounts of sulfites. The Grenache comes from the Blockhouse Vineyard in Yountville and brims with juicy, red fruit, and spice. It has lovely notes of cherry and vanilla, wild herbs, and black plum that compose bright and fruity red with plenty of spice to balance.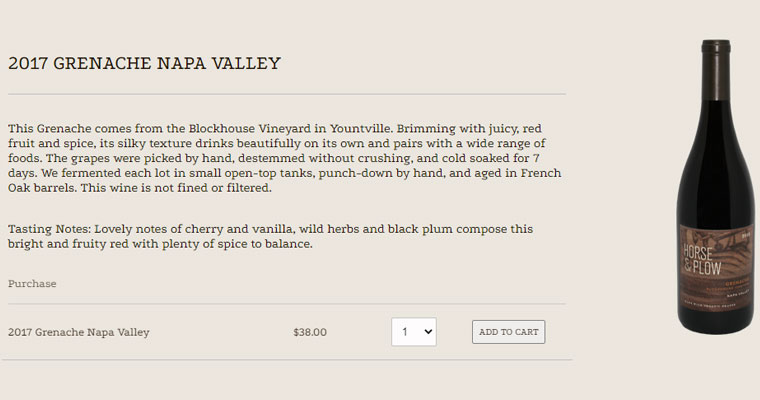 Old Westminster Nouveau 2021
Westminster is owned by three siblings Lisa Hilton, the Winemaker, Ashli Jhonson, the General Manager, and Drew Baker, the Farmer. They craft distinctive wines with a sense of place. They consult leading experts around the world who guide their land preparation, vine selection, and wine production. The Nouveau 2021 is a 100% Cabernet Franc with aromas of black plum, bubblegum, and tomato leaf. It has stunning tasting notes of blueberry, strawberry, and white peppercorn.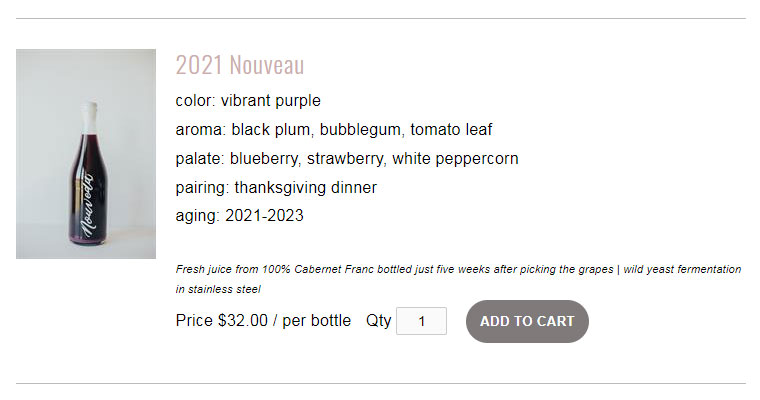 Frey Vineyards Biodynamic Cabernet Sauvignon 2019
Frey Vineyards is a third-generation, family-owned and operated winery located at the pristine headwaters of the Russian River in Mendocino Country. They have been producing award-winning vegan and gluten-free wines with no added sulfites since 1980 with their best of modern and traditional winemaking methods through minimal manipulation. The Biodynamic Cabernet Sauvignon is vibrant, focused, and expressive with flavors of allspice, and huckleberry along with a velvety mouthfeel and subtle violet notes on the finish.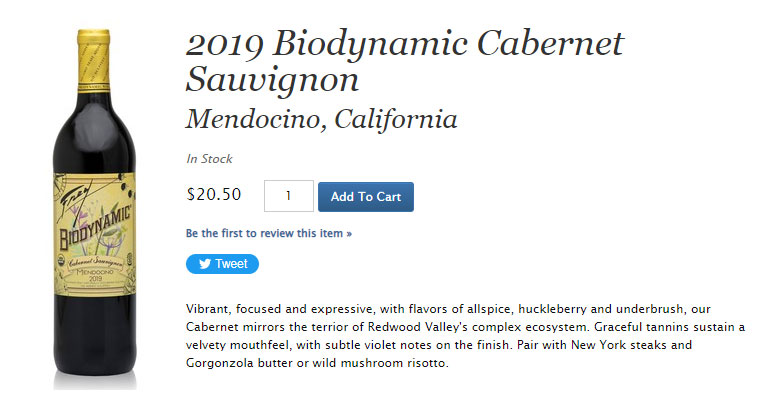 Broadside Margarita Vineyards Merlot 2019
Broadside has been crafting wines that embody the pioneering spirits of Paso Robles since 2006. Their wines are bold, expressive, and distinctive. Their wines are produced with the intention and demonstrate their dedication to sustainable farming and winemaking. With their every vintage, they are blazing their own trail and sharing their journey. The Margarita Vineyards Merlot is a blend of Merlot and Cabernet Sauvignon with complex aromas of cocoa dust, cedar, tobacco, ripe boysenberry, and freshly cut herbs. It has stunning tasting notes of black cherry cola, rhubarb pie filling, and hints of little black pepper.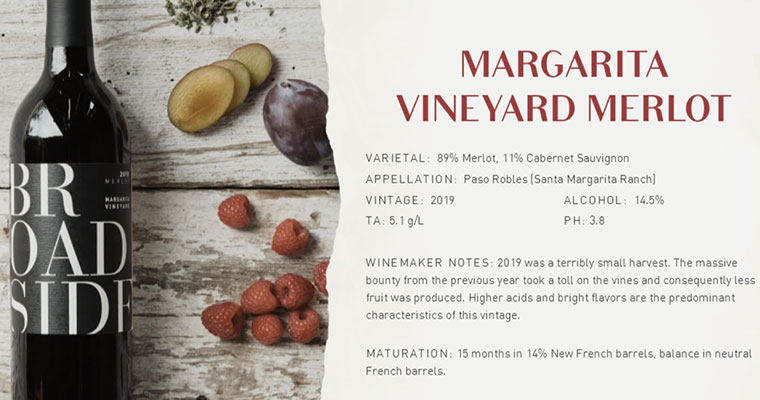 Floréz Moonmilk Chardonnay 2019
Floréz wines were founded on the belief that wines grow as a part of the natural landscape, and are shepherded with astute craftsmanship that provides a medium that connects us to the world. They honor this deep appreciation by practicing organic viticulture in the Santa Cruz Mountains and follow through with light-handed and intentional cellar practices to provide expressive wines of distinction. The Moonmilk Chardonnay has dairy-like qualities something like a tangy plain yogurt. It has sour pineapple and sweet notes and tastes nothing like a stereotypical buttery Californian Chardonnay.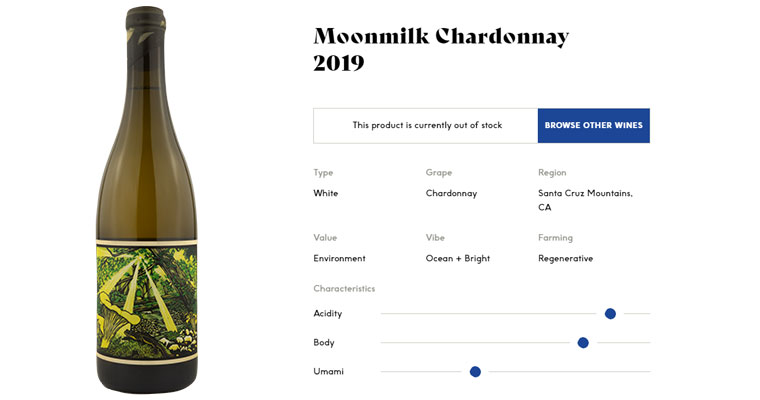 Pax Trousseau Gris 2020
Established in 2000 by Pax and Pamela Mahela, Pax Wines focuses on Syrah and Gamay Noir from cool, coastal sites, as well as a selection of unknown varieties that showcase the great diversity of Californian wine. From the vineyard to the cellar, they practice a holistic style of winemaking. This means all their fruit is grown using organic, sustainable, or biodynamic methods and no unnatural additions are applied in the winery. The Trousseau Gris offers delicate and light flavors with freshness and verve. The crisp light pink wine offers stone fruit, quince, and delicate floral aromas. It is made with 100% concrete fermentation with indigenous yeasts and bacteria.
Article by Shreya Kohli, Beverage Trade Network
Header Image Source - Harvest Tradition at Castello Laleccia Winery